Where next for RBS, and for Stephen Hester?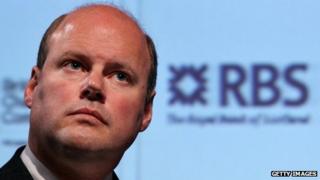 Stephen Hester will leave Royal Bank of Scotland with the potential to earn a lot more than public opinion has allowed him to trouser over the past four and a half years. In the market for turnaround specialists, this hunting enthusiast has bagged a big trophy for his CV.
He's taken a lot of the flak for anger at what went wrong with RBS. Some of it was on his watch, notably the Libor rate-fixing scandal. But most of it dates back to the Fred Goodwin era.
And as a clean-up operation, the Hester recovery plan takes some beating. Nearly a trillion pounds of assets have been run off or sold off, including the toxic nasties we learned about when crisis struck.
The bank's retreated from the complex network of overseas operations it inherited with the takeover of ABN Amro.
It's shed 39,000 jobs so far, leaving only 123,000. That's more than one in four, if you include the 2000 expected to go from the investment banking division following an announcement tomorrow.
To the credit of the boss and his team, that's a tough process done with little external sound of the pain inevitably involved.
And further to the credit of Stephen Hester, he "got it" about both the need for humility and about the Royal Bank's roots in Scotland.
Even if he was a rare visitor to Gogarburn HQ, and power moved to Bishopsgate in London, he knew the re-build of the brand had to start in Scotland. Although scunnered, customers remained loyal.
Meanwhile, RBS has been forced to sell Direct Line, and it's struggled to find a buyer for a chunk, to be known as Williams and Glyn's, which the European Commission also insisted it shed.
It's on track to sell half of Citizens Bank in the USA. But it still owns an enormous range of British businesses and assets which it took on as collateral for loans as the owners went under.
Good and bad banks
So what next? Well, the abrupt timing of Hester's departure was clearly not of his choosing. Even though he's sticking around until a replacement is appointed, it strongly suggests there's a political timetable to crack on with the privatisation of the government's 81% stake in RBS.
There are a number of ways of doing so. Almost certainly, it will be in tranches. It now looks like it will get under way before the 2015 Westminster election. It could be by the device being touted of share giveaways to the public. Parts of it could be through a trade sale, or conventional sale onto the stock exchange.
There are those, including the retiring Bank of England governor, Sir Mervyn King, who insist it should be split between good and bad banks (though it's always struck me as odd, when you consider that that's close to what the Hester strategy set out to do four years ago, but on one balance sheet).
From comments made by the Chancellor, George Osborne, and by the Business Secretary, Vince Cable, it's clear that the new chief executive can expect to take a clearer political steer on the way the bank supports the economy. That sounds like more direction on lending policy. We'll know more from an Osborne speech next week.
Battlefield promotion
Stephen Hester made it clear at the time of his 'battlefield promotion', in the midst of crisis in October 2008, that he would only take on the job if he could run the bank as a commercial entity. That meant no non-commercial political interference.
The interference grew over time, notably on pay policy, including Hester's bonuses. There was pressure on RBS as well as other banks to push more funding out to business.
But we may be about to see more engagement by ministers frustrated at the lack of growth in the economy and at the low levels of lending (of which more soon from the business lending ombudsman, with his annual report out on Thursday morning).
By the election in May 2015, the coalition parties need to have a story to tell about the recovery being under way. The economy and public finances clearly won't be where they want them to be. So a boost to lending, along with getting started on the sale of both RBS and Lloyds Banking Group, will surely form part of that narrative.
Where will Stephen Hester go next? He was recruited from property developer British Land. He can now aim for something rather bigger. Wherever it is, he surely won't miss the political flak.
And although it's only a day since James Crosby had his knighthood removed, at his request, for disservice to the banking sector, what do you reckon the chances are of a titled gong: arise Sir Stephen?