Glen Keith distillery in Speyside re-opened by Chivas Brothers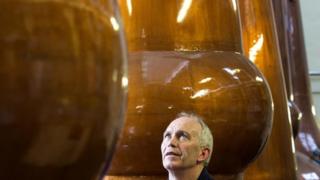 A Speyside distillery which closed 14 years ago has been re-opened.
The Chivas Brothers-owned Glen Keith distillery closed in 1999.
Chivas said it was to help the company continue to meet increasing worldwide demand for its whiskies, and chairman Christian Porta describe it was "wonderful".
This programme of investment will culminate in the building of a brand new distillery at Carron on the River Spey, to open in 2014.
The official re-opening was carried out by Cabinet Secretary for Rural Affairs Richard Lochhead.
Chivas Brothers has said it is committed to investing £40m each year in capital expenditure on its operations.
Next year, it plans to open a brand new distillery at Carron on the River Spey.
Christian Porta, the chairman and chief executive of Chivas Brothers, said: "It is wonderful to see this distillery re-opened and producing spirit once again.
"The fact that we are re-opening a silent distillery, and are soon to build a brand-new distillery in the region, shows just how strong the demand for our luxury Scotch whiskies is."