Rise in number of 'major' offshore gas and oil leaks, says HSE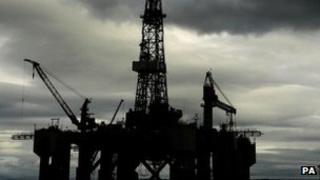 The number of major gas and oil leaks from the UK's offshore installations rose last year from three to nine, the highest in 14 years.
However, the total number of releases dropped to a record low - from 133 in 2011 to 97 last year.
The Health and Safety Executive released data for 2012-13. It said it was a valuable indicator of how the industry managed major accident risks.
The figures showed a 48% drop in incidents in the past three years.
That is just short of the target the industry set itself in 2010 of cutting the number of releases in half.
The preceding year, there had been 187 releases, or leaks, of which 84 were classified as significant and two as major.
In the 2012-13 year, of the 97 incidents reported to the HSE, those reckoned to be significant fell to a new low of 46, but the number of major releases rose from three to nine.
Judith Hackitt, chairwoman of the HSE, said: "The fact that the figures show the lowest number of leaks since we began this system of recording in 1996 is to be welcomed.
"However, they also confirm there is still more to be done. There is a need for constant vigilance and attention as assets continue to age."