Vion takeover: 2 Sisters deal approval 'secures thousands of of jobs'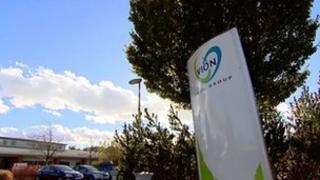 A takeover of the Vion UK Poultry business by 2 Sisters has been given approval, securing thousands of jobs at plants across the UK.
The Office of Fair Trading has ruled the acquisition did not create a competition issue.
It should safeguard about 1,600 jobs in Scotland, including 1,000 at Coupar Angus, 400 at Cambuslang, and 280 at Portlethen.
The Scottish government welcomed the deal.
Birmingham-based 2 Sisters Food Group said its purchase of Vion would give it more capacity to meet growing demand.
It said the integration of both the red meat business and poultry business could now proceed.
Processing plants
Vion has processing sites in England, Scotland and Wales, employing about 6,000 people.
In England, it has poultry plants in Essex and Suffolk and red meat processing plants in Cornwall.
In Wales, sites cover Llangefni, Sandycroft and Merthyr.
A 2 Sisters spokesman said OFT approval ended any uncertainty for employees, customers, farmers and other suppliers who serve these sites.
He added: "The deal is good news for UK consumers, who will now benefit from a secure supply of British meat and continued fierce competition amongst the supplier base, with both domestic manufacturers and imported chicken from a number of countries across the world."
Scottish Finance Secretary John Swinney said he had written to Ranjit Singh, chief executive of 2 Sisters, to express his support on behalf of the Scottish government.
Mr Swinney said: "I am delighted that the OFT have taken a positive decision to back vital investment in Scotland's food and drink industry by 2 Sisters Food Group, safeguarding jobs across the country.
"We have been in contact with 2 Sisters Food Group throughout this process and I am due to meet Mr Singh in July to discuss how we can secure a strong future for these operations."
2 Sisters announced its intention to acquire Vion's poultry and red meat processing businesses in the UK in March this year.
The group, owned by Boparan Holdings Limited (BHL), also owns Fox's biscuits and Goodfella's pizzas.