BrewDog launches £4m crowdfunding bid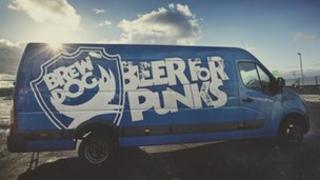 Fast-growing brewer and bar operator BrewDog has returned to investors in a bid to raise £4m for its latest expansion plans.
The Aberdeenshire-based company is selling shares to fund expansion of its Ellon brewery, bar division and a new chain of "bottle shops" across the UK.
Its Equity for Punks online crowdfunding scheme is making 42,000 shares available at £95 each.
BrewDog raised £2.2m through the same scheme in 2011.
Crowdfunding is a method of raising equity by asking a large number of people each for a small amount of money, often via the internet.
In a statement, BrewDog said shareholders would receive a lifetime discount at the company's bars and online shop.
Shares can be bought on the company's website.
BrewDog has reported average annual growth of 167% and says it is on track to reach turnover of £20m in 2013.
The company has opened 12 bars since 2010, including its first international location in Stockholm, Sweden.
'Punk investors'
BrewDog co-founder James Watt described Equity for Punks as "the world's biggest independent crowdfunding initiative".
He said: "With the help of almost 7,000 punk investors, BrewDog has become the fastest-growing food and drink company in the UK.
"As we need funds for more growth plans, we never considered a bank or an investment group - it's another opportunity for our customers to benefit from our growth directly.
"It proves that there is a viable alternative to the financial establishment, and as the self-interested banks continue to stunt economic growth, people are looking for better places to put their money."