Ernst & Young Item Club upgrades economic growth forecast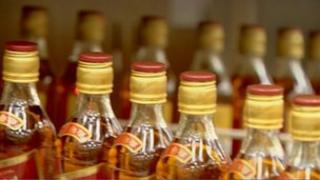 A leading economic forecaster has revised upwards its prediction for growth in the Scottish economy this year - but only marginally.
The Ernst & Young Scottish Item Club raised its growth forecast by 0.1% to 0.8%.
It said it had revised the figure because of a strong end to 2012 and an improving global economic picture.
The prediction for this year is slightly behind the group's expectation of 1% for the UK as a whole.
Its latest summer update forecasts further growth of 1.4% in the Scottish economy next year and a return to pre-crisis growth figures of about 2% in 2015/16.
Growth gap
The item club attributed this year's predicted growth gap between Scotland and the UK to Scotland's smaller stake in faster-growing sectors and larger share of sectors where declining outputs are expected.
The three sectors with the fastest forecast growth - professional and administrative services, retail and wholesale, and transport, storage and communication - account for less than 28% of Scotland's economy, but more than 33% of the UK's.
Those sectors witnessing the biggest decrease in output - mining and quarrying, construction and accommodation, and food services - form 14% of Scotland's economy compared with 12% of the UK's, it said.
However, the report concluded that Scottish businesses were performing, on average, at least as well as their UK peers because they only underperformed in two of the big sectors - retail and wholesale and transport, storage and communication.
Export base
The group also warned that expansion of Scotland's export base was "essential", given its reliance on the whisky industry.
Scotland's drinks industry now accounts for 28% of Scottish exports - 10% up on a decade ago.
Jim Bishop, Ernst & Young's Scotland senior partner, said: "Investment in capital projects has supported Scotland's economy to an extent, but attention must also be placed on expanding the country's export base.
"When you consider that exports in traditional areas such as engineering are down, there is danger in Scotland's non-oil export performance becoming heavily exposed to the continued success of one industry that relies heavily on an appetite for high-end consumer products in the emerging economies."
Potential impact
The report also argued that the slow growth of Scotland's economy was likely to result in only small gains in average employment levels, with momentum in the labour market predicted to pick up towards 2015.
It concluded that Scotland would have to wait until the end of the decade for employment levels to mirror pre-crisis levels.
The report warned that its overall forecast was dependent on a range of assumptions, such as the eurozone remaining intact, growth in the US being sustained and world trade growth accelerating.
It also pointed out that forecasts for the future of the Scottish economy faced a number of uncertainties, including the potential impact of next year's referendum on independence.
Meanwhile, a report from analysts KPMG said the majority of Scottish businesses believed they would increase turnover, profits and staff numbers in the year ahead.
When asked about independence and the referendum, the majority of Scottish businesses said that information was lacking concerning taxation and Scotland's relationship with the European Union.
Craig Anderson, senior partner for KPMG in Scotland, said: "A driving force behind economic growth is business confidence; the confidence to launch new products or enter new markets, the confidence to take on more staff or the confidence to invest in your business. Our survey suggests some of Scotland's largest businesses are looking to the future with optimism.
"They feel, despite the uncertainty of an independence referendum in just over a year, Scotland is a good place to do business."