Scottish independence: Firms 'need more information'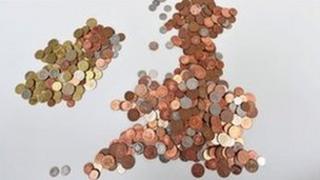 Scottish firms need more clarity in order to make an informed judgement about whether Scotland should become independent or remain within the UK, according to a business lobby group.
The call followed a survey of firms by Scottish Chambers of Commerce (SCC).
It suggested a majority of businesses did not yet feel they had enough information to make up their minds ahead of next year's referendum.
Most surveyed also said they expected independence to affect their business.
The referendum is due to be held in September next year.
The survey, conducted in conjunction with economist Prof David Bell and co-funded by the Economic and Social Research Council, found 58% of respondents said they did not feel they had enough details to make up their minds in the constitutional debate.
More than a third (37%) said they had taken a view already.
Businesses in Scotland's largest cities were slightly more likely to feel "comfortable" that they were getting the information they needed than those in the rest of Scotland.
'Major concern'
Respondents who traded mainly with the rest of the UK or the EU said the question of how independence might affect their business was a "major concern".
Those trading mainly with the rest of the world were less concerned about the potential impact of independence.
Taxation, the currency and Scotland's status in the EU topped the list of information gaps firms said they faced on the question of how a Scottish economy would operate post-independence.
Each of these factors was identified as a concern by more than 60% of responding businesses.
Another information gap cited as important was how the Scottish economy would be regulated in terms of business, finance and labour after independence.
'Clear message'
SCC chief executive Liz Cameron said the findings sent "a clear message" to those conducting the constitutional debate in Scotland that businesses needed clarity if they were to be able to make an informed judgement come the referendum.
She added: "Scottish Chambers of Commerce will be working hard between now and referendum day to make sure that members' priorities are being addressed.
"This survey shows that the constitutional debate hasn't yet engaged clearly enough with the priorities of the Scottish business community.
"Today, we call on those on both sides of the debate to examine their plans and to ask themselves what more they could be doing to make sure that the Scottish business community has the information it needs."
The survey was conducted among SCC members between 5 June and 19 June.
The results were drawn from a sample of more than 800 firms across Scotland - from sole traders to companies with more than 500 employees.