Connecting up the energy future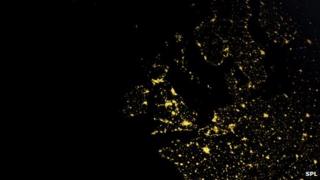 Is Thursday 27 June the day we finally began to see some answers to Britain's energy challenge?
For one day, we're not short of developments. They started with the challenge getting bigger.
Ofgem kicked off with a warning that the electricity supply problem is tightening. Whereas there's now a risk of major disruption to supply of one in 47 years, within only two years from now, Ofgem told us capacity cuts and rising demand puts that up to one in 12 years.
The noose has tightened slightly since it last reported, because coal prices have been low, meaning producers are using up their finite licences to burn the black stuff. Gas prices have been high, meaning producers have cut back on gas-burning capacity.
Fracking bonanza
That one in 12 years doesn't mean the lights are going out. But it means the chances of them doing so are rising steeply. And due to a lack of long-term planning, and over a long time, the next generation of generating capacity won't be available for a few years yet.
Before moving to that, the price of gas may come crashing down, if the British Geological Survey is any guide. It added to Thursday's energetic activities with a report suggesting the extent of shale gas potential is twice what was previously thought.
No-one has made shale gas work commercially in Britain, and they'll find the environmental lobby trying to trip them up as they try.
The challenge is not simply to replicate the huge bonanza in fracked shale gas that's turned America's energy market on its head. I'm told the geology is a lot more complex than that. And the indications from Whitehall are that they will move mountains (though perhaps there are better expressions) in tax breaks and planning regulations to ensure this industry is encouraged.
On the other side of the energy ledger, the drive to cut consumption hit an embarrassing note for the government on Thursday. Six months after introducing its Green Deal, which is meant to be about utilities providing incentives to homeowners to cut demand, of nearly 27 million British households, not one has benefited, and only four homes are in the pending tray.
Going nuclear
The new map of Britain's energy future is being marked out with payments to electricity generators to have capacity available for those points when supply gets tightest.
Rupert Soames, head of Aggreko, stands to gain if we need his company's temporary generators, and he pointed out today (by Tweet) that with around 9,000 megawatts of wind capacity installed, there was one point recently when it fell to only 20 megawatts of output.
It's not just that the wind drops. There's also a big shut-off of fossil-burning capacity under way. So the subsidy means paying for old gas plants to stand ready, or new ones to be built as back-up. It could mean paying big industrial users to cut demand at peak times.
There's a subsidy also for nuclear, though they're not calling it that, because Liberal Democrats in the coalition wouldn't stand for it. The support is a guarantee of loans from private finance to those building the first of the next generation of new nuclear power stations. The big question is what floor price the government is willing to put on nuclear energy, to make it sufficiently attractive to generators to construct new plants.
That is still being negotiated, and after long delays, the timetable's slipping again. We're told August is now the target month to find out a proposed fee, with December remaining the target date for the finalised figure.
As part of that, we'll find out more about the price support regime for renewable energy. Under agreements known as Contracts for Difference, each form of energy gets a different 'strike price'. If the market price is below that, then the producing company gets the difference made up.
Linking the islands
We've learned today that wave power's strike price, under this new system, would be £305 for wave and tidal, if approved next December. That compares with the average price per megawatt-hour over the past year at below £50.
Offshore wind would receive £155 per megawatt-hour next year, declining to £135 by 2018. DECC reckons that should be sufficient to unlock investment in 8 gigawatts of capacity - considerably more than Scotland's needs.
Onshore wind, which is closer to being commercially viable, starts at £100 per megawatt hour next year, and declines less steeply, with most of these Contracts for Difference applying and guaranteeing income streams for 15 years.
There may be a much higher level of support for power coming from Orkney, Shetland and the Western Isles. The cost of linking them to the mainland and the national grid is very high, but they have such big potential for wind and marine power that there's a case for providing a business incentive for doing so.
The case has been made, and today we learned that it's been accepted. This summer will see a consultation on figuring out how to make it happen.
Paying the bills
There's a catch with today's new numbers. The information DECC has published only tells you the rate for the job. It doesn't tell you how much the government is willing to commit to buying from each source.
As an industry expert explained it to me, it's as if you've been told you'll earn £100 per hour, but you don't know if that's for one or 40 hours a week. So it's no basis on which to plan your finances.
That much will have to be spelled out in the next couple of months, and decided by the end of the year. Only then can the renewables industry properly get to work.
And as these strike prices will only be for installations between 2014 and 2019, it leaves open the question of whether Britain's commitment to reducing carbon emissions will continue to allow for investment into the next decade. Only when the industry knows that will the prospect of new turbine factories begin to come true.
And where is this subsidy to come from? It's worth remembering this is not government generosity. Consumers will be paying for renewable energy on their bills - up to £4.3bn in 2015-16, rising to a maximum in 2020, and at today's prices, of £7.6bn.