Jobs secured as Hargreaves takes over five Scottish Coal mines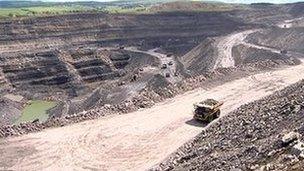 Coal firm Hargreaves Services is to re-start operations at five opencast coal mines, closed down with the collapse of Scottish Coal.
It plans to hire 300 people over three months, rising to 500 within a year.
The Durham-based company is not taking ownership of the five mines, due to the cost linked to restoration once the mineworking is finished.
It is, however, spending £8.4m to buy some assets from KPMG, the liquidators of Scottish Coal (SCCL).
KPMG was appointed in April after SCCL folded, with the loss of 600 jobs.
It has struggled to find a buyer for the assets, because of the complex issue of transferring responsibility for site restoration.
Hargreaves believes there is not sufficient income from the sites to pay the costs of restoring the land.
The £8.4m sale covers much of SCCL's property portfolio, including 30,000 acres of land, together with assets owned by a related firm, Castlebridge Plant.
It also includes equipment necessary to operate the five mines being re-opened for operations.
The firm also indicated it intended to invest a further £25m into its Scottish mining operations and to site its UK surface mining headquarters in Scotland.
The agreement will see the transfer of SCCL's interests in five former active mining sites, including Broken Cross in South Lanarkshire and House of Water in East Ayrshire, to newly created subsidiaries of Scottish Coal.
The other sites are St Ninian's in Fife and Damside in North Lanarkshire, which will see restoration work carried out, and Chalmerston in East Ayrshire, where a planning application is being submitted to open up new reserves.
The agreement does not include SCCL's Blair House mine near Saline, Fife.
Hargreaves will operate the mines for coal extraction and for restoration work, and it will market an estimated one million tonnes of coal per year. Any surplus, after its fee has been paid, will go to the Scottish Coal subsidiary.
If the issue of restoration costs can be resolved, Hargreaves has an option to buy that subsidiary from the liquidators.
A taskforce set up after the collapse of SCCL has held a series of meetings to discuss jobs and the restoration of opencast mines in Scotland after communities affected raised concerns.
Last month, the Scottish government rejected a call from the Scottish Opencast Communities Alliance for a public inquiry into the opencast industry.
Ministers argued there was no need for an inquiry into restoration of sites as "all the relevant parties" were already working on the issue.
Hargreaves, which was given preferred bidder status for the SCCL assets in May, said on Friday the newly-created subsidiaries would "continue to be responsible for the resolution of outstanding restoration liabilities at these sites".
In a statement, it said: "Hargreaves will assist in the process of seeking optimal solutions for those outstanding liabilities in light of the funding available through continued mining activity and the existing restoration bonds.
"In the immediate term, Hargreaves will provide site care and maintenance while restoration and mining plans are completed.
"Hargreaves will re-commence operation of the sites as soon as possible and market the coal produced.
"In the longer term, Hargreaves has the option to purchase these subsidiaries."
Hargreaves hopes to achieve a production run-rate of at least one million tonnes of coal in the first year.
Hargreaves Services group finance director Iain Cockburn said: "It has taken a lot of hard work by many stakeholders to reach this agreement, given the complexities involved following the collapse of Scottish Coal, and today's announcement marks a new start for coal production in Scotland, creating the opportunity for 300 much-needed mining jobs in the next three months and up to 500 as production increases.
"Today's agreement also provides wider development and regeneration opportunities to help address the legacy of unfulfilled restoration obligations.
"We will work collaboratively with our local communities, key stakeholders and regulators.
He added: "We are committed to supporting the Scottish Mines Restoration Trust and we will encourage other industry participants to do likewise."
Joint liquidator Blair Nimmo from KPMG said it had been "a particularly complex case".
He added: "Following a great deal of effort, I am very pleased to have concluded the sale of these assets to Hargreaves.
"I would like to thank everyone involved for their significant efforts in helping to deliver this outcome, which I appreciate is simply a further step in the right direction towards the possibility of mining resuming at certain former Scottish Coal sites."
Related Internet Links
The BBC is not responsible for the content of external sites.