Law firm Brodies sees profits rise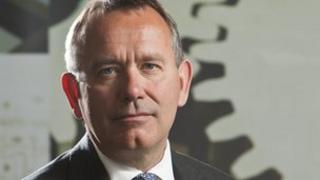 Brodies, the Scots law partnership, has reported a 7.5% increase in revenue, to £46m.
Profits in the year to April rose 9.3% to £19m, helped by expanding its Aberdeen office from 34 to 46 staff.
The firm, which also has bases in Edinburgh, Glasgow and Brussels, increased its staffing from 513 to 534.
Though its revenue growth slowed from 16% the previous year, its financial position and growth contrasts with some other legal firms.
Some have sought mergers and Semple Fraser was put into administration in March.
The number of Brodie's fee-earning staff was up from 318 to 326, while it added only one more partner, rising to 75.
Managing partner Bill Drummond said: "The year just passed witnessed sweeping changes in the legal market in Scotland - be it mergers, takeovers or firms ceasing to trade. Change will continue and will present challenges and, more importantly, opportunities for us and our clients."
The annual results showed Brodie's earnings have risen by more than 200% in the past decade.
"We hope to continue to deliver the sustained, organic growth we have seen over a decade and more," said Mr Drummond.