Profits soar at Glasgow-based Scottish Power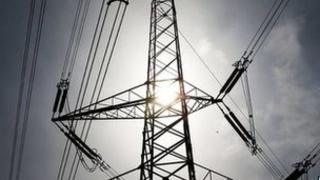 Utility company Scottish Power has reported a doubling of profits while charging customers more for their energy.
The group made a pre-tax profit for 2012 of £712m - up from £350m in 2011.
The Glasgow-based company also paid its Spanish parent, Iberdrola, a dividend payment of £890m.
In October last year, Scottish Power announced energy bills were going up by 7%, with the average annual dual fuel bill increasing to £1,271.
Scottish Power said it invested almost £1bn in its UK assets last year creating thousands of new jobs and said its profits were boosted by restructuring, taking on more customers and the bad winter weather.
It added that the dividend paid to Iberdrola was higher than normal because none was paid in 2011 and 2007.
Revenue for the year increased to £7.8bn from £7.4bn a year earlier.
The energy firm said its profits were partly lifted by the inclusion of figures from its renewables business for the first time which amounted to £64m.
It said an impairment charge on its Longannet power station in 2011 hit profits in that year by £169m inflating the 2012 figure.
'Competitive business'
The profit margin for the utility's supply business was 4.4% which it said could be "viewed as an appropriate level of return given the size of asset base and associated risk of running a large competitive business".
Despite announcing recent job increases staff levels at the group fell by nearly 300 during the year to 7,526.
The highest paid director - chief corporate officer Keith Anderson - received a salary of £373,000 with a bonus of £129,000.
Consumer groups have challenged the level of profits at a time of above-inflation price rises.
Trisha McAuley, director for Scotland of Consumer Futures, said: "Consumers do not know whether they can believe the relationship between energy prices, company profits and the wholesale price of energy.
"Greater transparency is vital to know whether there is scope for companies to avoid prices rises."