Scottish high streets report surge in sales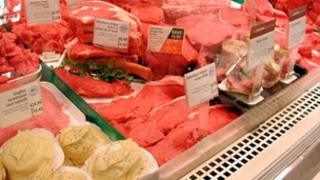 Scottish retailers have reported the strongest growth in sales for more than two years.
Figures released by the Scottish Retail Consortium (SRC) showed overall sales in June were 2.8% up on the same period last year.
Both food and non-food categories performed strongly over the month.
SRC said warmer weather and a steady rise in consumer confidence lay behind the improvement.
Total Scottish sales growth was broadly in line with that of the UK as a whole, having lagged behind for much of the past two years.
Food sales were 4% up on June 2012, while non-food revenues rose by 1.8%, driven by clothing and footwear sales.
Overall sales were 3% up in real terms from June 2012 after taking account of shop price deflation, according to the latest SRC/KPMG Scottish Retail Sales Monitor.
'Strong momentum'
SRC director Fiona Moriarty said: "It's really positive to see that the tentative boost in May gathered strong momentum in June, propelling Scottish sales growth to a level almost in line with the rest of the UK and its highest since April 2011.
"Warmer weather and a steady rise in consumer confidence are key factors behind this encouraging improvement."
Ms Moriarty said food was "the stand-out performer" in a month where all categories posted good results.
She added: "Growth was comfortably above inflation and higher than the UK average, suggesting that sunshine and cautious optimism about the economy put many of us in the mood to stock up on seasonal, barbeque and celebratory food.
"Non-food also saw a major improvement, reflecting that Scottish shoppers are still responding well to targeted promotions, whilst also catching up on updating their wardrobes for summer after putting off purchases during the prolonged cold snap in spring."
'Welcome cheer'
KPMG head of retail David McCorquodale said the figures brought "very welcome cheer" for retailers.
He added: "Economic recovery in current climes is a long, relentless journey.
"However, there are signs in 2013 that consumers are feeling just a little more confident, more secure in their employment and retailers are working hard to provide an outlet for that confidence.
"I've mentioned swallows and summers before but am encouraged by June's figures to predict further growth in the third quarter."
Earlier this week, the British Retail Consortium said Scotland was the only part of the UK, outside London, to see a rise in shoppers in the past quarter.
It reported a 1.7% rise in footfall in Scottish stores between April and June compared with the same period in 2012.
This contrasted with Northern Ireland which saw a 5.2% drop in footfall.
Every other region in the UK, except for a 3% rise in London, saw decreases over the three-month period.