Scottish economy grows by 0.4%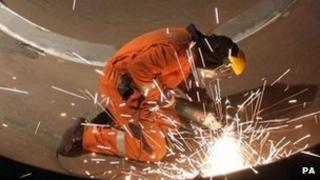 The Scottish economy grew by 0.4% in the first three months of this year, slightly faster than in the UK as a whole.
On an annual basis, comparing the latest quarter to the same period in the previous year, Scottish GDP grew by 1.2%.
Service industries grew by 0.8%, production by 0.1% while construction contracted by 2.5%.
The UK economy expanded by 0.3% in the same period and by annual rate of 0.3%.
Within the service industries, which account for more than 72% of the Scottish economy, the strongest growth of 5% was in financial and insurance activities.
Distribution, hotels and catering as well as retail all saw negative growth of about 1%.
The contraction in construction followed growth of 2% in the final three months of 2012 and, on an annual basis, this sector expanded by 2.3%.
Scottish Secretary Michael Moore said: "Scotland is benefiting from the security, scale and influence provided by the UK, pooling resources from a UK-wide tax base, unrestricted access to a single domestic market from which we do two thirds of our trade with the same regulation in Wick as in Weymouth."
'Strong performance'
For the Scottish government, Enterprise Minister Fergus Ewing said: "Scotland's economy continues to grow faster than the UK with a strong performance across the business services and finance sector.
"We can build on these figures but we cannot allow Westminster's continued pursuit of austerity over economic recovery to derail the positive developments we are seeing in Scotland."
The Scottish Trades Union Congress (STUC) said the latest GDP and unemployment statistics supported its view that "caution must be exercised" when assessing Scotland's immediate economic prospects.
General Secretary Grahame Smith: "Unemployment is now back at the level of autumn last year.
"It is clear that any nascent recovery is having very limited impact in tackling the stock of unemployment created through the recession."
'Tentative recovery'
The Federation of Small Businesses in Scotland (FSB) said the latest figures were another indication of a "tentative economic recovery" north of the border.
Scottish policy convenor Andy Willox added: "To accelerate growth, the FSB urges the UK government to take action to tackle rising overheads, such as the cost of finance, fuel and utilities, which our members say pose real barriers to their growth and success.
"Further, the FSB's latest research shows that there's lot of work to be done north of the border to use the public sector's spending power as a means to sustain and develop our local business communities."