Aker Solutions buys Glasgow specialist engineering firm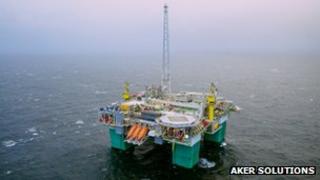 Oil services firm Aker Solutions has acquired a Glasgow-based engineering company which specialises in analysing oil and gas industry assets.
Norway-listed Aker bought International Design Engineering And Services Ltd for an undisclosed sum.
The Scottish firm uses software and technology to assess the integrity of assets such as installations.
Its analysis can be used in all phases of an installation's development, from design through to life extension.
Tore Sjursen, head of Aker Solutions' maintenance and modifications business, said: "This technology strengthens our offering of asset integrity management services.
"It can be used to predict the lifetime of an installation in a more effective manner.
"It also helps us plan more targeted maintenance and inspection activities, and increases the quality and precision of our services."
Aker Solutions' asset integrity management services include maintenance engineering and advanced inspection and monitoring throughout the lifetime of both onshore or offshore installations.