Mobile phone game 'could find cancer cures'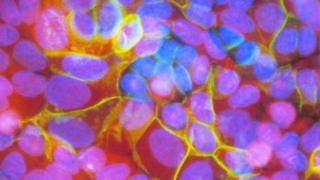 A smart phone game which results in players analysing real cancer data is being developed with the aim of discovering new treatments.
Cancer Research UK has hired Dundee-based Guerilla Tea to build "GeneGame".
The charity has already enlisted the help of the public to classify variations in vast amounts of gene data using its site Cell Slider.
It said in three months "citizen scientists" had analysed data that would have taken scientists 18 months.
The charity said advances in technology had helped scientists to identify new causes and drivers of cancer.
However, it said colossal amounts of data needed to be analysed by the human eye rather than machines - and this could take years.
Now it hopes to create a game which will will be fun to play while at the same time classifies data from research archives, which can then be fed back to Cancer Research UK scientists.
This will help them "drastically speed up" research into the genetic causes of cancer, and in turn develop potential new cures.
GeneGame is to be launched in the UK later this year.
Amy Carton, citizen science lead for Cancer Research UK, said: "We're right at the start of a world-first initiative that will result in a game that we hope hundreds of thousands of people across the globe will want to play over and over again and, at the same time, generate robust scientific data analysis.
"Combining complicated cancer research data and gaming technology in this way has never been done before and it's certainly no mean feat but we're working with the best scientific and technology brains in the business.
"We're ready for the challenge and believe the results will have global impact and speed up research."
'Braver and bigger'
Guerilla Tea's Mark Hastings said: "We've always believed games technology as the potential to provide huge benefits to other sectors and this project will be a wonderful example of that."
Cancer Research UK's first initiative, Cell SliderTM, launched in October 2012 and allows the public to classify archived breast cancer samples.
Dr Joanna Reynolds, director of science information, Cancer Research UK, said "Over 200,000 people have already visited our CellSlider site, from over 100 countries, making more than 1.6 million classifications.
"With GeneGame we are being bolder, braver and bigger and we hope that by the end of the year we'll have a game that not only is fun to play but will play a crucial role in developing new cancer cures sooner - ultimately saving lives."