SSE set for £200m Argyll and North Ayrshire network upgrade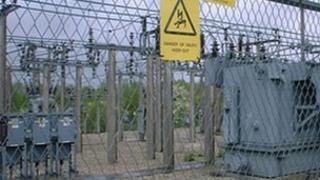 Power firm SSE is to press ahead with a £200m upgrade of the electricity transmission network between Argyll and North Ayrshire.
SSE subsidiary Scottish Hydro Electric Transmission is to build a subsea link between Kintyre and Hunterston.
The upgrade will provide 150MW of extra grid capacity for renewable energy projects.
The company said the decision to move ahead followed "positive feedback" from industry regulator Ofgem.
Plans include the construction of a new power line between the new substation at Crossaig and the existing substation at Carradale.
The energy firm said the project would provide an alternative source of power from the mainland and increase the resilience of the network in an area that was hit by high winds and heavy snow earlier this year.
Scottish Hydro Electric said it would now finalise plans for construction but did not give a start date.
The upgrade is part of wider plans by SSE to invest £5bn in the electricity network in Scotland between 2013 and 2021.
'Significant step'
Director of transmission David Gardner said: "The announcement from Ofgem signals another significant step in our plans to reinforce the transmission infrastructure throughout Scotland."
Earlier this month, Ofgem asked SSE for more information on why a subsea cable was needed to carry electricity generated on the Western Isles to the mainland.
Scottish Hydro Electric Transmission had submitted the "needs case" as part of the planning process for the cable.
After assessing the case, energy regulator Ofgem asked for further details to be submitted.
That project has been hit by delays and a rise in costs to an estimated £780m.