Construction sector 'may be turning corner', survey finds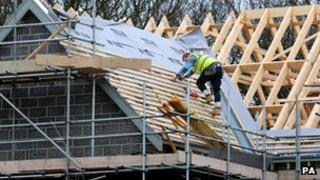 The Scottish construction sector may finally be turning a corner with the number of new projects beginning to rise, according to a new survey.
The Royal Institution of Chartered Surveyors (Rics) said industry activity appeared to be "edging upwards".
It recorded an 11% rise in the number of surveyors reporting increases in workloads in the second quarter of the year.
It was the most positive reading since the first quarter of 2008.
Rics said this more positive tone was expected to continue over the coming year, with 33% more respondents predicting workloads would continue to rise rather than fall back.
The survey also suggested there were signs that the sector's collapse in profitability could be starting to reverse.
Rics said this was feeding through to greater optimism about the prospects for employment, with 22% more chartered surveyors expecting job opportunities within the industry to rise in the next 12 months.
Financial barriers
However, it interpreted the latest data as evidence that the sector UK-wide was "beginning to regain some composure rather anything even remotely close to a return to form".
Rics Scotland director Sarah Speirs said: "It is most definitely good news that the amount of construction taking place across the country seems to have turned a corner.
"Increasing numbers of homes, infrastructure projects, shops and offices can only be good for the wider economy.
"It is important however, that we keep this in perspective.
"Construction across Scotland has been falling for quite some time and despite an increase in activity, there is still a long way to go and a number of financial barriers to remove before we can start talking about a full recovery."