The Herald and Evening Times face strike action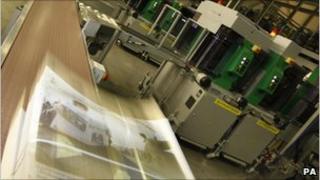 Journalists at The Herald and Evening Times in Glasgow have voted for strike action, in protest at redundancies.
A total of 17 jobs are going in editorial, eight of them compulsory.
The publications are run by regional newspaper publisher Newsquest, the UK arm of US media group Gannett.
In a ballot held by the National Union of Journalists (NUJ), half of members voted, with 86% in favour of strike action.
The NUJ claimed more than 100 journalists had lost their jobs since Gannett took over the Scottish titles in 2003.
It has demanded improvements to redundancy terms and continues to oppose compulsory redundancies at the company.
'Last resort'
NUJ organiser in Scotland Paul Holleran said: "The ballot result shows the strength of feeling amongst our members.
"It is a clear sign that management should reopen talks with the union and resolve the dispute.
"Strike action is always a last resort but the chapel vote for action shows members want to try and stop Newsquest's ruinous plans."
He added: "Gannett has a total revenue of £848m yet they want to make compulsory redundancies on what are nearly statutory terms."
Newsquest's Herald & Times Group responded by saying that any industrial action would be "counter-productive in the current extremely challenging time for the industry".
A spokesman said only about a third of editorial staff had voted to back a strike and only about two-in-five had backed action short of a strike.
He added that the company was investing in upgraded editorial technology, which "allowed production savings while preserving the range and quality of editorial coverage".