By Royal Appointment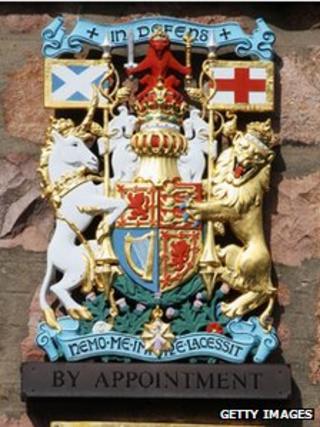 Queen Victoria can take quite a lot of credit for inventing the Scottish tourism industry, and her descendants are continuing to do their bit.
With the current Queen returning to Victoria's Cairngorm retreat at the weekend, she brings quite a lot of spending power to the local economy, and even more spending power from those who wish to holiday at least a bit like a monarch.
I've been on Deeside this week, learning more about the royal warrants. There are 51 members of the local royal warrant holder associations.
They cover lots of things you need to run a country estate, and some you might not have considered - chain-saws, two-way radios, wellies, road maintenance, plant hire, pest control and Semex for "cattle breeding services".
There's a panel beater, Alan Scott of Banchory, who told me the royal crest hasn't brought him a whole lot of business.
Incidentally, he also said his business is suffering from the appeal of big-paying oil and gas jobs, attracting away staff after he's trained them up. I heard the same from others.
Royalty payments
The warrant-holders include a heating engineer as well as one for refrigeration. There are local warrants for interior design and soft furnishings. There are suppliers of whisky, meat, fish and shortbread.
There's a taxidermist in Braemar and a piano tuner who comes from Aberdeen. And you get a tiny insight into the Queen's cosmetics cabinet with the warrant for an emollient skin cream made by Ian Murray, a retired local pharmacist.
It's Davidson's Pharmacy in Ballater which has two coats of arms outside, signifying royal warrant status for both the Queen and Prince Charles. And as the bus tour guides note, that's what marks out several of the village's shops.
John Sinclair, who jointly runs Sheridan's butcher on the main street, also has two warrants outside his shop, and a range of pies and sausages dedicated to the royal trade.
The newly-born Prince George Alexander Louis of Cambridge, third in line to the throne, already has a sausage in his honour. It's named after the Strathearn title he's also picked up from his parents.
There's a Guard's pie, featuring black pudding. The royal security detail posted to Balmoral by the Metropolitan Police are enthusiastic consumers of pies and steaks, I'm told. And I'm going to stretch BBC rules on advertising to recommend the venison and cranberry pie, the meat sourced from the Glen Muick Estate.
Mr Sinclair told me that the village could lose roughly half of its business if it weren't for the royal-related business.
And he also said that, having got the warrant 'by royal appointment' to both the Queen and Prince Charles, you've got to tick quite a few boxes to retain them, including royal expectations on sourcing, packaging and sustainability.
Regal roughage
Pamela Chalmers owns a chain of 12 north-east bakeries, one of them in Ballater, which boasts a particularly shiny coat of arms with its warrant, next to the Bluebird Bus garage, 'supplier of bus and coach services' to HM.
The warrant got her an invitation to the recent Buckingham Palace gardens showcase for royal-related enterprise, and her baker, Andy, is soon to go to Japan as part of a festival of food there.
He'll be demonstrating the baking of the Balmoral loaf, originally created to the requirements of the late Queen Mother. Apparently, it's good for roughage.
While it's a big seller, Pamela Chalmers also told me about the challenge of keeping the chain going, against tough opposition from supermarkets, as they open in-store bakeries.
Ballater is more than 20 miles from the nearest Tesco, but home deliveries by the retail giant are now reaching into village trade.
Traditional bakeries have had to respond with more sandwich counters, but there's an admission that for Chalmers, it can be a struggle. The family chain also faces the challenge of retaining staff in the face of bigger pay in the oil-soaked Aberdeen economy.
A monarch, but few stars
Of course, it's tourism that is the big boost to this area, beyond the spending clout of the royals and their entourage.
And that is seeking to diversify, helped by a couple of good ski-ing winters at Glenshee and the Lecht. But it's a sector that's even more dominated by small-scale operators than is usual.
There are very few major tourism operators along the glen. Hilton has a time-share operation at Craigendarroch, between Balmoral and Ballater, but the hotel in the same grounds has closed down.
So while there are some quality guest houses and bed and breakfast businesses, there is no hotel on Deeside with more than three stars.
Carol Fowler is part of a consortium that bought the Banchory Lodge last year, and hopes to change that, starting with a half-million pound refurbishment.
The aim is to move beyond the huntin', shootin' n fishin' fraternity, with a big push into the weddings market, while drawing corporate business 20 miles out from the city of Aberdeen.
The Lodge may be able to benefit from the lively Monday to Thursday hotel business feeding off the offshore energy sector, if it can also keep busy with tourism and locals dining there at the weekend.
But that's a tough act to pull off in Aberdeen itself, where Carol Fowler has been a joint owner of a small hotel in Dyce for nearly 10 years.
Aberdeen hotel capacity has long been low for that reason. It's not a place that does well out of leisure city breaks, as Edinburgh and Glasgow do.
Some new hotels have been opened in the city centre in recent years, and out in Dyce, the leisure marketing is focused on local golf, including Donald Trump's controversial presence at Menie.
Learn more about the royal warrants and the Deeside economy on BBC Radio Scotland's Business Scotland programme, available on BBC iPlayer and by free download.
It also includes a report on Edinburgh royal warrant holders supplying cheese to the Palace of Holyroodhouse and kilts for all three granters of warrants.