Scots job vacancies 'up by a quarter'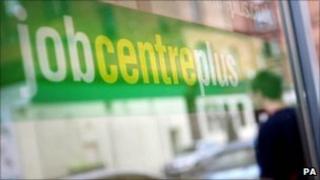 The number of job vacancies in Scotland has jumped by almost a quarter, according to one recruitment firm.
Employment website totaljobs.com said fewer people were applying for each job, making it easier to find work.
Overall, the number of vacancies was up by 24% when compared with the same period last year.
But in areas such as property there has been a rise of 55%, with the second biggest increase (33%) in the travel and tourism industries.
However, vacancies in banking finance and insurance have fallen by a fifth compared to 2012.
Totaljobs.com found there was an average of 14 people applying for each post compared with 16 a year ago.
'Cautious confidence'
Graduate jobs were also up 19% and retail jobs have risen by 12%, despite a difficult period which saw Jessops, HMV and Blockbusters enter administration, totaljobs found.
The recruitment firm said its latest survey showed an increase in confidence which should encourage growth and investment.
Steve Clark, manager of totaljobs.com in Scotland, said: "The jobs market in Scotland continues to improve, with a 24% year-on-year rise in employment opportunities and increasing pay.
"With the summer now upon us, we've seen a flurry of job vacancies in tourism and hospitality, which is good news for school and college leavers hoping to gain valuable work experience.
"The warmer weather has boosted retail sales and the housing market looks like it's turning a corner.
He added: "The fact that employment opportunities have increased in Scotland since last year is bound to contribute to cautious confidence amongst jobseekers and employers, and it is this cautious confidence that should encourage the growth and investment that this region needs."
The data is taken from the totaljobs.com barometer which analyses the behaviour of 4.8 million jobseekers and 5,000 recruiters each month.