Profits slip at Weir Group engineering firm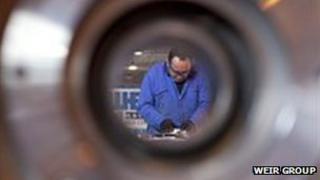 The engineering company Weir Group has reported a 14% drop in pre-tax profits as demand for mining equipment slowed.
The firm made £193m in the first half of this year compared with £225m in 2012, and revenue for the first six months of 2013 was down 10% at £1.2bn.
The Glasgow company, which makes pumps and valves for the mining, oil and gas industries, said its full-year profits remained as expected.
Weir's chief executive Keith Cochrane described conditions as "challenging".
He added: "The Group has continued to focus on operational improvements and investment in its growth platform, positioning Weir to take full advantage of the range of opportunities we see across our end markets in the second half of the year. "
Weir said the sharp drops in commodity prices - copper, gold and iron ore prices fell by about 20% in the second quarter - had a "minimal impact on production activity".
However, it said the equipment market was "more challenging" and capital expenditure in the mining industry fell with projects progressing more slowly as customers took a "more measured approach to investment".