Growing number of Scots use smart phones to access web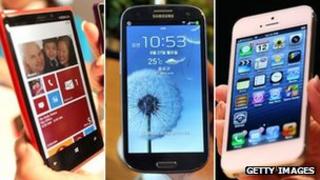 The Scottish mobile market is catching up with the rest of the UK, with the proportion of people using smart phones to access the web growing from 31% to 44% in a year.
The latest survey from communications regulator Ofcom attributed the rise to increased smart phone ownership - up 13% to 45%.
That is still below the UK average of 51%.
Scotland is also behind with home broadband use.
It increased 2% this year to 70% but that is below the UK average of 75%.
The rise in the use of tablet computers doubled to 24% in a year, which is equal to the UK average.
Vicki Nash, Ofcom Scotland director, said: "It's good to see Scotland catching up in our use of communications and media.
"This applies to the rise in take-up of tablets, mobiles and smart phones along with growth in the use of mobile internet.
"Some of the trends reported in last year's report continue.
"Broadband take-up for Scotland as a whole has increased; not as large an increase as reported last year but still an upward trend."
Report findings
The findings are contained in Ofcom's communications market report for Scotland, which also looks at TV, radio and post.
People in Scotland are "significantly more likely" to say they are happy with the Royal Mail.
A total of 67% were "very satisfied", compared with 40% across the UK.
Overall satisfaction with the Royal Mail stood at 93% in Scotland.
When it came to broadcasting, spending on programmes specifically for viewers in Scotland fell 6% to £52m between 2011 and 2012.
But over the five years from 2007 to 2012, Scotland bucked the trend for spending on current affairs output.
Over that period, the spend on current affairs by the BBC and STV increased 6% - against a 28% decline for the UK as a whole.