Football financial focus
There's surely no subject on which Scotland has more experts than football and its finance. Unfortunately, much of that expertise is deployed to little effect from armchairs, barstools and from behind the anonymity of social media.
It rarely seems to spread to the actual playing of the game or its financial management.
Some of the finest business minds turn their attentions to football, but it's been observed they are then afflicted by some weakness that leads to rash, deluded or plain silly decisions.
I've been asking why that is, in a programme on the finance of Scottish football, and the answer that comes back is: emotion. So who says Scotsmen don't do emotion? It seems they do if it's flavoured with pie and Bovril.
That said, there's more than emotion to what's going wrong at Ibrox. As if there hasn't been enough reason for fans to despair at the calamitous decisions of past Rangers bosses, it seems more bloodletting is newly under way.
Player pay
With a new season under way, the (genuine) experts contributing to Business Scotland this week reckon the worst ought to be over. I've also found a lot of agreement on what went wrong.
The last 13 years have seen 13 clubs go into administration, currently including Dunfermline Athletic and Heart of Midlothian in Edinburgh. The forthcoming BDO review of football finance is reported to be warning - and it's not alone - that at least one more can be expected to call in the administrators this season.
Another forthcoming report into the club's finances is coming from PwC. Because of problems at Rangers and Dunfermline, it hasn't included those clubs in its assessment of SPL clubs in season 2011-12. The others ran up losses of about £11m.
Much of this had to do with overstretch going back to two big changes that began 18 years ago. Clubs had to respond to the sharp change in player contracts that followed the Bosman ruling in 1995. You could no longer count on making money from selling players, if players were coming to the end of contracts.
That didn't work out as many thought it might. It pushed up player pay in place of transfer fees, but there were new ways of making transfer fees work too, often with longer contracts.
English riches
The other problem, unusually, was a flood of money. BSkyB poured cash into football as the key part of its business model for building up a customer base that now numbers more than 10 million.
It was a bold gamble for BSkyB, not only giving it a dominant position in paid-for TV in the UK, but also pumping sufficient funds into football to make English football the world's richest football league.
As David Glen, compiler of the annual Scottish football finance review for PwC, says it put the top tier of English clubs into a virtuous spiral of investment leading to success leading to global audiences and followings.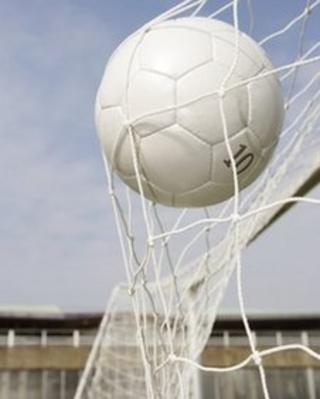 Scottish football clubs were used to being able to compete for good players and they could also see TV cash coming their way too. But as Glen tells it, they headed into a vicious spiral. There simply wasn't the audience to justify a big TV spend.
The result, according to Neil Patey, football finance analyst with Ernst & Young, is that the TV money available to English football is somewhere between £1.5bn and £2bn per season, whereas the best guess of TV funding for the Scottish club is closer to £15m. So for every £1 in Scotland, English clubs are getting more than £100.
Put another way, the entire Scottish top tier is getting less than half the amount of TV money heading the way of the worst performing club in the English premiership.
The launch of BT Sport's channels, with the start of the season, may be bringing significantly more money into the Scottish game, but the telecom giant is refusing to say how much it's paying - a reticence not being applied to its English spend.
It doesn't look good, either, that the new league structure doesn't have any sponsor. Neil Doncaster, its chief executive, says that's because of the uncertainty of what structure there would be. His top priority is to get a brand signed up, but given the problems still afflicting the image of the game, he's not in a strong negotiating position.
Daunting debts
The gamble on the Scottish game going the same way as the English one has built up a lot of debt. In Rangers, it reached £80m at one point, fuelled by the ludicrously over-generous terms on offer from Bank of Scotland to Ibrox and other clubs, including Dunfermline.
At Hearts, the Lithuanian who controlled its financial strings, simply absorbed losses as it spent more than £110 on player pay for every £100 in revenue. Vladimir Romanov's empire has now collapsed, and now, according to its administrators, Hearts owes more than £28m.
According to Bryan Jackson of BDO and administrator of both Dunfermline and Hearts, the legacy issue of past debts is the continuing problem. He agrees with the other accountancy consultants that club directors have got their house in order, and fans have got their expectations more closely aligned with reality.
All of them, says David Glen, have changed their business model. And the best way to punch above your financial weight now is to follow the way of the beef farmer: buy them young, bring them on and sell them at a higher price for finishing.
The PwC partner cites Hibs as a club that's done well out of that. Celtic has also done some very smart business in recent weeks, with its European profile offering up-and-coming players an attractive showcase.
Those who have watched football finance in recent decades note that the Fergus McCann at Celtic Park in the 1990s didn't win him popularity prizes, but was a focused business strategy for which fans should now be grateful.
Big hats
I've heard other advice on what football clubs need to do. Roy McGregor, chairman of Ross County - while rapidly growing his energy engineering company out of Inverness and Aberdeen - says clubs have to reach into every aspect of fans' lives, making the Dingwall operation a genuine community operation.
And I also heard from Vivien Kyles, who used to run Livingston and is now chief executive of Hamilton Park racecourse. From the perspective of a sport that is far from having football's attendance figures, she points out that the racecourse has only 18 meets a season - similar to home matches at many clubs - so the challenge is to get more out of that asset, on the other days of the year.
In her case, that means more than 40 weddings per year, conferences, banqueting and corporate training days.
It's Ladies Day at the Lanarkshire club this weekend. So could be big hats be the answer to your local football club's financial problems?
You can hear Business Scotland at 10am on Sunday 4 August on BBC Radio Scotland, and after that on BBC iPlayer and by free download.