Scottish export growth 'to outstrip UK'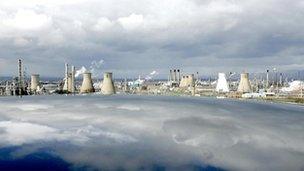 Exports of Scottish goods have been forecast to grow faster than the rest of the UK over the next four years.
EY, the accountancy firm, said exports would rise by 2% each year between last year and 2017, while the UK as a whole is on track to see growth of 0.3%.
European export growth is on course for only 1%.
It stressed the opportunity for the chemicals industry in Scotland to boost its export sales, largely from the Grangemouth complex.
Engineering and aerospace were also seen as important growth areas, while whisky was expected to continue growing.
EY, recently rebranded from Ernst & Young, said the UK needed to re-orient its exports away from established markets to faster-growing ones.
This was particularly to target emerging economies, as the more mature economies will have less potential to increase their imports.
Growth is expected in sales to the US and Germany. But France, which has been Scotland's second biggest export market, is forecast to reduce its imports from Scotland of 13% by 2017, and the Netherlands by 11%.
Analysis of growth markets suggested Venezuela, Latvia and Australia would be among those most sharply increasing their imports of Scottish goods, by at least 16% per year.
The accountancy firm also said the Commonwealth Games in Glasgow next year would be an important showcase for key industries.
Jim Bishop, senior partner in Scotland, said: "It's stunning to consider that the Commonwealth makes up 30% of the world. That incorporates a couple of billion people in some of the fastest growing economies where Scotland is exporting.
"Any increase in exports must be taken as a positive, but Scotland's goods exporters must move away from a reliance on western trading partners and tap into rapid growth trade corridors where there great demand for what we do best. Harnessing that appetite will help underpin the recovery of our largely services-based economy."
Finance Secretary John Swinney welcomed the projected export performance figures.
He added: "Growth sectors such as chemicals, engineering, beverage and aerospace are essential if Scotland is to move on to a more sustainable, balanced path of growth and economic success.
"Scotland's drinks industry is also performing strongly with whisky exports set to rise to £4.5bn by 2017."
Related Internet Links
The BBC is not responsible for the content of external sites.