Farmed salmon producers unite to create new global body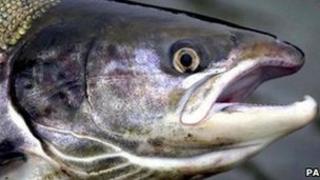 Major farmed salmon producers have joined forces to address challenges facing the industry globally.
A group representing 70% of the world's farmed salmon industry have launched the Global Salmon Initiative (GSI) in Trondheim, Norway.
It aims to tackle challenges such as biosecurity, feed sourcing and meeting industry standards.
GSI is made up of 15 firms based in the world's main salmon producing nations - Scotland, Norway, Canada and Chile.
The industry-led initiative aims to achieve "significant and continuous progress in sustainability" within the farmed salmon industry.
It is estimated that about 60% of the world's salmon production originates from farms.
In 2011, 1.6 million tonnes of salmon came from farms, while 930,000 tonnes of wild salmon were caught.
The largest markets for the fish are the European Union, USA and Japan.
Industry challenges
The new initiative includes two Scotland-based producers - The Scottish Salmon Company and Scottish Sea Farms.
GSI firms hope to tackle a number of industry challenges, including the need for expansion and growth in line with growing demand for protein from a rapidly expanding global population.
They also face concerns from environmentalists about the impact of salmon farms and local concerns about the impact on wild fish numbers.
Environmental group WWF Scotland welcomed the creation of the new body.
Director Lang Banks said: "It's good to hear that more salmon producers are pledging to operate more sustainably and reduce their impacts on the environment.
"This announcement now means that almost two-thirds of all Scottish and UK farmed salmon production is being put on a path to becoming more sustainable.
"Along with existing schemes highlighting responsibly caught wild fish, we hope more producers backing sustainability schemes, such as the Aquaculture Steward Council, will give consumers the confidence to make the best choices when buying farmed seafood."