CityJet to axe Edinburgh to London City route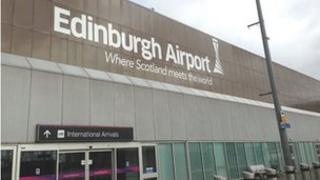 CityJet has announced it is to axe its Edinburgh to London City Airport route later this year.
The regional airline said it had decided the service, which it has operated since 2007, was no longer "a commercially viable option".
Flights will cease to operate after 26 October.
CityJet, which is a subsidiary of the Air France KLM Group, said its Dundee to London City route would continue to run.
The airline currently offers four flights daily between Edinburgh and London City.
The move leaves British Airways with a monopoly on flights between the two airports.
In a statement, CityJet said it had "made the difficult business decision" to discontinue the route.
It added: "Following a significant period of consultation, it has been decided that the route is no longer a commercially viable option for the airline.
"Flights will not operate and seats will no longer be bookable after 26 October 2013.
"If you have a booking in place departing after 26 October, CityJet ensures that you will be rebooked with another airline or are happy to offer a full refund.
"CityJet is doing all it can to ensure a smooth, seamless transition for passengers that may be inconvenienced by this change."