Heimdal platform problem disrupts Norway gas exports to UK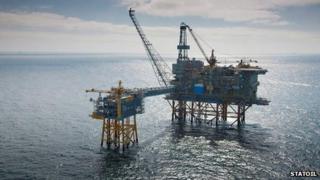 Norwegian gas exports to the UK have been disrupted following a loss of power at a North Sea platform.
The Statoil-operated Heimdal Riser platform was shut down on Wednesday evening, affecting gas production from the Oseberg field.
As a result, flows through the Vesterled pipeline to the St Fergus gas terminal near Peterhead dropped to zero.
Statoil said it hoped to resume gas exports through the pipeline on Friday.
The Heimdal platform is used as a distribution point for the transport of Norwegian gas to the rest of Europe.
In addition to Oseberg, it processes gas from the Atla, Huldra, Skirne and Vale fields in the Norwegian North Sea.
About half of the 108 workers based on Heimdal were transported from the platform following the power outage, with only essential staff remaining.
Power outage
A spokesman for Statoil said: "We can confirm that there was a power outage on the Heimdal platform on Wednesday evening and export has been shut down. We expect the gas export to be back on again sometime tomorrow."
Statoil would not confirm how much gas flows through the Vesterled pipeline on a daily basis, but Norwegian state-owned firm Gassco - which is responsible for transporting gas from the Norwegian Continental Shelf - said the pipeline's maximum capacity was 36 million cubic metres of gas per day.
Total-operated St Fergus continues to receive natural gas from offshore fields in the UK North Sea via the Frigg UK pipelines.
St Fergus is one of two receiving terminals in the UK for Norwegian gas.
The other - Easington on the east coast of England - is undergoing planned maintenance work which has cut gas supplies from the Langeled pipeline since 10 August. The work is expected to be completed by Monday.