Sharp rise in permanent jobs filled, bank survey finds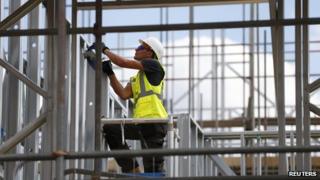 Scottish recruitment firms have reported a sharp rise in the number of people securing permanent jobs.
A Bank of Scotland survey also found a strong increase in vacancies for both permanent and temporary jobs in July.
The bank said its report signalled the sharpest rise in permanent staff placements since the survey was launched more than 10 years ago.
It added rising business confidence could be translating into further recovery in the Scottish economy.
The survey follows other recent indications of an improvement in Scotland's economic health.
Earlier this month, the Purchasing Managers Index - which is also published by the Bank of Scotland - suggested companies were winning new orders in July, while managers were also planning to expand recruitment.
And last week, official figures showed the number of Scots in work at its highest level for more than four years.
Jobs barometer
The Bank of Scotland's labour market barometer for July rose to 60.3 from 58.5 in June - its highest level since September 2007.
The barometer is measured against a baseline of 50, with anything above that number representing an improvement in market conditions. Any number below 50 means a deterioration.
The bank survey found Aberdeen-based recruiters recording the strongest increases in both permanent and temporary staff placements.
Permanent staff availability deteriorated to the greatest extent in Glasgow, while Aberdeen saw the strongest fall in temp availability.
Demand for permanent staff increased in seven out of eight employment sectors, led by IT & Computing.
The only sector to see a reduction was Blue Collar.
Vacancies growth
The number of permanent job vacancies grew strongly in July, albeit at a weaker pace than June's 14-month high.
Vacancy growth was particularly marked in the engineering and construction sector.
Scottish recruitment agencies also reported a sharp rise in demand for temporary staff, with vacancy growth accelerating to a 31-month high.
Permanent salaries rose for the fifth consecutive month, while temp hourly pay rates increased at the joint-sharpest pace since data collection began in January 2003.
Bank of Scotland chief economist Donald MacRae said: "These results suggest rising business confidence is translating into a continuation of the recovery in the Scottish economy this summer."