Getting smart about mobile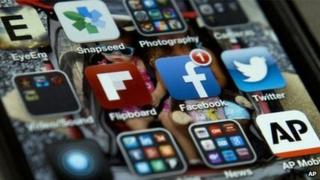 Take your time as you let these figures sink in: this year, it is reckoned that more than 900 million smartphones will be shipped by manufacturers.
That's nearly one each for a seventh of the world's population.
According to a market report from analysts Gartner this week, European smartphone sales are running at 32% up this year, Asia-Pacific is up 74%, and Latin America by 56%.
With overall 40% growth this year, and new smartphones now out-numbering more conventional mobile phones, the total should easily top a billion next year.
Generation gap
Let me offer you some more numbers, courtesy of the Office for National Statistics, and from closer to home.
It says 53% of British adults are using a mobile phone to access the internet this year, up from only 24% only three years ago.
And while that shows the pace of the revolution taking place as 'home computing' goes mobile, the ONS also highlights a big generational divide.
Of those aged 16 to 24, 94% are using some mobile device to access the internet away from home or their workplace, whereas among those aged 65, only 17% do so.
The potential for this shift is enormous for marketing. Alan Wilson, professor of marketing at Strathclyde University, points to the possibilities from locational messages - that is, the ability of your phone provider to use your location to push messages to you advertising local businesses.
Apps and mics
I've learned all this in researching this week's Business Scotland programme, looking at the phenomenon of going mobile, at the marketing opportunities, Dundee company Waracle which is one of those in the business of designing apps, and at a specialist designer of the audio chips that go into smartphones and much else besides.
That's a big market. Across a range of electronic consumer goods, 3 billion microphones will be shipped.
The most advanced smartphones have three each, not just for you to speak into, but to help cancel the noise around you.
I've learned this from Eddie Sinnott, vice-president of strategy at Wolfson Microelectronics. It's got four design studios around the world and 10 sales offices, while its head office is within a drop goal of Murrayfield stadium.
A flag-carrier for the indigenous Scottish electronics industry, Wolfson spun out from Edinburgh University in 1984. It handles the interface between electronics and the outside world, particularly soundwaves.
It captures them in microphones, some getting down to less than two square millimetres. It processes the sound on microchips, and it handles the other bit of the interface when it is converted into sound waves again.
If your smartphone is anything like mine, you'll know that the squawky speaker needs a bit of improvement. It was where the mobile phone started, yet it seems to have developed least.
Listeners to BBC speech radio will be aware that the sound quality with communication software such as Skype sometimes leaves a bit to be desired.
So while much of the innovation in past generation mobiles has been in developing processing power, internet access, apps, touch-screens and cameras, this interaction with sound, movement and location is seen in Murrayfield as the next frontier.
Always-on
That's why it's been chosen as a 'design partner' of mobile market leader Samsung. Five years ago, the firm lost a big contract with Apple which has taken a lot of recovery. But now Samsung is one of a range of the iPhones' rivals using Wolfson's technology, and there's confidence about coming out of the red.
While some phones are getting bigger, to provide a bigger screen, others will become smaller, and may be worn with clothes or as a watch. Google Glass is one such trial product, offering the wearer a visual display of information about the surrounding environment.
Eddie Sinnott foresees a mobile device that is aware of your location, and is awaiting instructions from your voice, and differentiates it from other voices. It will be 'always-on', in that you won't have to touch it at all or enter a pin code.
It will lurk, like a faithful hound, awaiting your instructions. You can bark commands, but with practice, you might find it a bit more conversational.
And at the sound of your voice, it can tell electronic smart device what you want - not just an internet search, but instructions to your kitchen appliances, heating system, light switches, music and, of course, your television.
It raises the prospect of never losing your TV remote control again, but of a battle of family voices to see which one overrides the others in changing channels.
There's often a price to be paid for technological advance.
Business Scotland going mobile was broadcast at 10:00 on Sunday 18 August, and you can listen again on the BBC iPlayer and by free download.