John Menzies buys foreign aviation rivals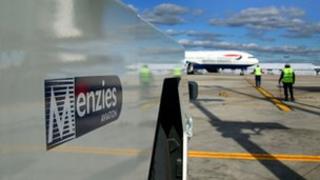 John Menzies, the Edinburgh-based aviation services firm, has bought ground and cargo handling firms in Australia and Colombia.
It paid £7.7m for Skystar in Australia and New Zealand.
Skystar employs about 400 people and operates at eight airports for 10 airlines, including Jetstar and Qantas.
The firm paid £4.7m, also in cash, to buy Desacol, which mainly operates in Bogota, as well as four other Colombian airports.
In a statement, John Menzies said: "Bogota is a key attractive airport in our growth strategy, as well as Colombia being a strong Latin American market that provides a bridgehead for further opportunities in other countries."
Managing director Craig Smyth, said the acquisitions are "an excellent consolidation play".
"Skystar fits well with our existing successful operations in Oceania and I look forward to growing the market share of our enlarged network in the region."
Menzies Aviation claims to be the second-largest ground and cargo handling organisation in the world, operating at 134 airports in 29 countries. It employs 18,000 staff.
In its half-year results to June, published on Tuesday, John Menzies announced pre-tax profits up from £16.4m to £18.4m.
Turnover, including joint ventures, was up from £988m to £998m.
Operating profit on its distribution business, mainly in newspapers and magazines, was down from £13.5m to £11.8m. This was explained by falling magazine sales.