Oil and gas explorer Cairn Energy outlines drilling plans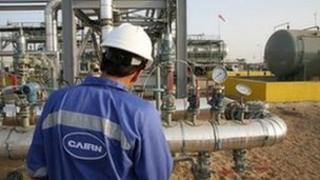 Oil and gas firm Cairn Energy has set out plans for a 12-month exploration drilling programme, which could see it resume drilling activity off Greenland.
From September it plans two exploration wells off Morocco, two off Senegal and one appraisal well west of Ireland.
Cairn will also make a decision in the second half of this year on a joint venture exploration well off Greenland.
That could see the Edinburgh-based explorer resume drilling in the Pitu field in the second half of 2014.
Cairn's drilling programme in Greenland has so far been unsuccessful and has been strongly criticised by environmentalists.
In its latest half-yearly report, the company raised its overall programme target to a combined figure of more than four billion barrels.
Inventory
Its current inventory comprises 62 prospects and 144 leads in both the frontier basins (Morocco, Senegal, Greenland, Ireland, Mauritania and Spain) and the more mature UK and Norwegian North Sea and Norwegian Continental Shelf.
Cairn chief executive Simon Thomson said: "Cairn commences a 12-month multi-well high impact frontier exploration programme in September that will offer shareholders sustained exposure to material growth potential.
"The programme will be delivered against a backdrop of balance sheet strength and an established North Sea exploration, appraisal and development position."