High-impact frontiers for Scotland's explorers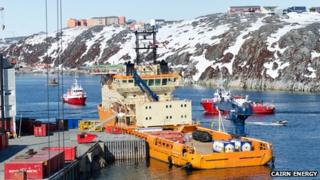 Scots have built up a formidable knowledge of oil and gas exploration and production during 40-plus years of North Sea drilling.
It helps explain why companies, usually based in Aberdeen, punch above their weight, and do so in the kind of risk-taking environment at which you don't often find canny Scots.
Faroe Petroleum is one of them, today setting out its latest exploits, as an investor in several North Sea fields.
This is a precarious time to be doing so, not only because of the risks of drilling, but because it's getting tougher to find finance.
EY, the accountancy firm better known as Ernst & Young, this week published its monitor of smaller oil firms listed on the Alternative Investment Market. It found a lack of confidence from investors, with those smaller companies underperforming the market.
It said there's interest in Africa, and interest shifting to stock market floats more than conventional forms of fund-raising.
Wood price chopped
Wood Group is not an explorer, but works alongside the drillers and producers in almost every oil field there is.
Chief executive Bob Keiller was on Radio Scotland, saying how he's getting the Aberdonian giant to work better across its own divisional boundaries, in basins from eastern Canada to Kazakhstan to Sakhalin island to Singapore.
Wood Group's first-half figures looked strong on Tuesday, helped by US shale, but expectations were higher.
Markets picked up on a bit of uncertainty about the engineering giant, and it's taken a 10% cut in share price.
Reputational risk
The most successful in recent years has been Cairn Energy, based in Edinburgh. It's well-known for two big risks.
One was for buying out Shell for a few million dollars, after the giant oilco had tried but found nothing in India's Rajasthani desert.
Sir Bill Gammell gambled it all on a series of wells, and only in the last one did he strike black gold in abundance. Cairn has since sold most of its stake in India, paid back investors generously and set out for similar adventures elsewhere.
One of them is the other well-known bit of the Cairn story, in Greenland.
The wells it sunk last year found some signs of oil, but nothing too exciting. It hasn't given up, but it took a year out to look at its data and to find partners to spread the risk. So Statoil is signed up for one of its licensed blocks, and drilling is planned for the second half of next year.
The spread of risk is reputational as well as financial and technical. Drilling off Greenland has gained Cairn notoriety with environmental campaigners.
As well as taking a decision on drilling, it's been working with others active in that area to assess social impact to traditional communities around Baffin Bay in Canada.
Kraken awakes
What is less well-known about the company, now with Simon Thomson as chief executive, is that it's been looking to re-orient itself to the next stage, much of which is closer to home.
It's bought into assets in the UK North Sea, which are intended to provide cash flow. It's planning to drill wells there, with partners, and to develop two significant finds; Catcher in the central North Sea and Kraken, a heavy oil field east of Shetland.
The company's rationalising its portfolio in the UK and Norwegian North Sea, swapping assets with Statoil and selling a 6% share in the vast Mariner field to Dyas for $43m, which avoids the very high capital costs that's about to incur.
The Edinburgh firm has also been preparing a position on new frontiers where there's been little offshore drilling but where it's one of the companies seeing big potential. Tuesday's trading update is about a "12-month, multi-well, high impact drilling exploration programme".
There's an interest in the Mediterranean, looking to deploy four drilling licences off the east coast of Spain, between Valencia and Ibiza.
West of Ireland
But before that, Cairn has hired drilling rigs for Atlantic prospects. Greenland remains one of them, but before then, it is drilling off the north-west coast of Africa, starting with Morocco next month.
It's moving on to Senegal early next year. The partnership there with ConocoPhillips allows for another well, which allows Cairn to set out to investors its target of finding at least four billion barrels of oil. And that's before it moves on to its new prospect off Mauritania's Atlantic coast.
In the second quarter of next year, it also plans to drill west of Galway in Ireland, where it is the operating partner in two licensed blocks in what's called the Porcupine Basin.
All this is going to burn through a lot of cash. In the first half of the year, outflow of cash was $107m. It made a loss of $219m, which - for now - it can well afford.
Following the sale of most of its Indian subsidiary to Vedanta, that has left it with $1.4bn in cash, and a 10% share in Cairn India it could still sell for around $1bn.
Having put its next phase in place, that "high impact drilling in new frontiers" makes this sound the exciting end of business.
And the idea of finding four billion barrels of oil has kept investors interested. But with its drilling programme soon to start, this is when Cairn gets back into the big risk business.