Philips to shed jobs at Hamilton factory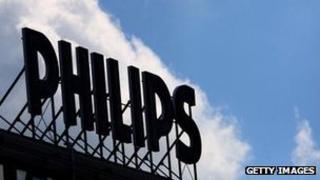 Electricals manufacturer Philips has announced plans to shed more than 130 jobs at its factory in Hamilton.
The Dutch firm has informed the workforce of proposals to phase out production of light fittings at the facility in the first half of next year.
Several product lines will be transferred to other sites.
Just over 100 staff will remain at the factory, producing low pressure sodium lamps for the global market.
The job losses have been described as a "massive blow" to the local workforce.
The company said it was taking the step in order to "remain agile and competitive" in a challenging economic environment.
In a statement, Philips said: "As a result we have informed the workforce at our Hamilton facility that we are proposing to phase out the production of luminaires at the facility during the first half of 2014, with a number of product lines being transferred to other sites.
"The proposed phase out would impact 133 members of staff.
"Reductions in workforce are always difficult and Philips is committed to providing affected employees with as much help, information and support as possible."
'Massive blow'
The company added: "As part of the proposal, our low-pressure sodium lamps produced at Hamilton would continue to be manufactured on site for the global market.
"Hamilton is the only Philips manufacturing facility around the world that produces these lamps for an existing customer base for this technology."
Hamilton West MP Tom Greatrex described the move as "a massive blow to a loyal and long-standing workforce in Hamilton".
He added: "In discussions with Philips management I have underlined the importance of ensuring that those affected are given support to find alternative employment, and I will be pressing SNP ministers in Edinburgh to ensure there is help and advice for those affected."