Chilly numbers for Chivas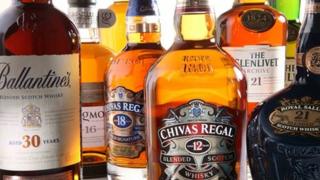 The recent exporting boom for Scotch whisky is looking ever more shaky following publication of Pernod Ricard's full-year results.
The French drinks giant controls around a fifth of the Scotch industry, led by Chivas Brothers, with the Ballantine's brand and its Glenlivet single malt.
Its results give some indication of how Scotch is performing against other brands, even when there's volatility in the market.
And once again, there's evidence that the appeal of Scotch whisky as a luxury status symbol in China is suffering from the official disapproval of conspicuous consumption. Edrington and Diageo have noted the same problem.
That constrains growth of the super-premium brands, at a time when that's the direction in which the industry is wanting to travel.
And that means there's a Chinese squeeze from both ends, as less emphasis is placed on marketing the cheaper end of the range. In Thailand, the 100 Pipers brand was held responsible for a big fall in total sales, offsetting continued strong growth for Absolut vodka and Jacob's Creek wine.
Value and volume
Lower end brands are not performing nearly as well globally, with the volume of Ballantine's sales down 4% last year, and 6% by value.
Ricard was the only one of the company's brands doing worse, because it was hit in its dominant French market by a sharp increase in tax.
The value of Chivas Regal sales was up 5%, notably for its super-premium 18-year old, but without any increase in volume.
The best news was for the Glenlivet; value up by 22%, and volume by 18%. It saw double digit growth in each region of the world.
Excellent in Turkey
In some parts of the world, Scotch is still going strongly. The Pernod Ricard results show Chivas and the Glenlivet whisky led a 7% rise in sales in the travel sector (mainly airport shops).
And while Turkey's government sought to make access to alcohol more restricted, in line with the rest of the Middle East, Chivas led an "excellent performance".
The French giant's other brands were not all suffering the same problems as whisky. Jameson's, the Irish whiskey, was doing considerably better. So was Martell, and Perrier-Jouet champagne.
While whisky sales fell in China, total Pernod Ricard sales in the country were up 9%.
The numbers provide a reminder that Scotch can't afford to rest on its laurels, and that its fate lies in the marketing strategies of multi-national companies which may have other priorities in mind.