Quality Meat Scotland warns of beef price 'threat' to processors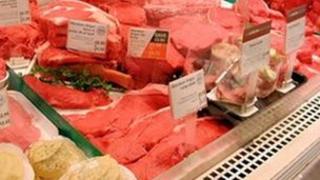 Promotional body Quality Meat Scotland (QMS) has urged retailers to move towards a "more realistic" beef price, warning that the viability of processors is under threat.
QMS chairman Jim McLaren claimed the retail price did not reflect the true cost of beef production and processing.
He said processors were worried about the "very concerning gap" which had emerged.
Mr McLaren was speaking at the launch of QMS's annual review.
He said: "The beef processing industry is facing major financial pressure and struggling to endure the pincer effect of strong cattle prices coupled with the time-lag in retailers passing this raw material price increase to consumers.
"The result is our processing sector is enduring margins which are simply unsustainable."
'Lagged behind'
QMS analysis of beef market trends over the past three years found that since July 2010, the average price paid by an abattoir operator to a farmer for a steer in the UK had risen by 51%.
The promotional body pointed to retail price index data from the Office for National Statistics which showed that in June this year, the average retail price for beef in the UK was just 22% higher than in July 2010.
"If we look at how prices have moved for cattle and beef over a 20-year period it is very clear that the retail price of beef has lagged behind most other meats and proteins and, until recently, all other foods," said Mr McLaren.
"Without question there is a very real opportunity for retailers to address this disparity and move towards a more realistic beef price on the retail shelf and, in turn, an increased return for processors."
He added: "Such a move would be a welcome indication of retailers' recognition of the spiralling costs faced by processors who have also seen a significant increase in labour, energy and distribution costs."