Healthcare firm Craneware in US overhaul as profits fall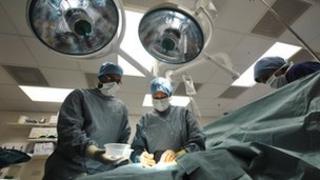 Edinburgh-based healthcare IT firm Craneware has started to restructure its US operations in a bid to secure deals with larger healthcare providers.
The move by the hospital billings firm was outlined in its annual results, which saw pre-tax profits fall 5% last year to $10.6m (£6.7m).
Momentum grew in direct sales to single and smaller groups of hospitals.
But it said a "modified approach" was required to secure deals at the larger end of the market.
Steps include hiring one new non-executive director sourced directly from the hospital market, and creating two new senior management positions.
The company counts a quarter of all US healthcare providers as customers.
Its software solutions are designed to improve healthcare organisations' financial performance.
In the company's annual results for the year to the end of June, Craneware said revenues rose marginally to $41.5m (£26.5m).
'Very encouraging'
Chairman George Elliott described the steady growth in sales to individual hospitals as "very encouraging" and a reflection of a more stable trading environment.
He continued: "Despite strong growth in the small and medium tier of the market, Craneware did not achieve a significant sale to the larger end of the healthcare market in the year under review via either large hospital groups or other routes to market, such as contracts with IT businesses or consultancies.
"Although these opportunities remain significant prospects for the group, they are, because of their nature, inherently difficult to forecast.
"We believe that in the current market environment of consolidation in the healthcare industry, a modified approach is required to secure these types of deals and we have just completed the first stage of the restructuring of our organisation to work with these prospects more effectively."
He added: "We are confident that our market leading products and proven customer successes mean we are well positioned to secure this business once revenue integrity moves up their corporate agenda."
Founded in 1999, Craneware has offices in Atlanta, Arizona, Massachusetts and Tennessee employing over 200 staff.