Scottish unemployment up by 10,000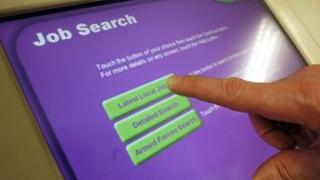 The number of unemployed Scots rose by 10,000 to 203,000 between May and July, according to the latest official figures.
Employment also rose by 6,000 on the previous quarter, to stand at 2,536,000 - its highest level since 2008.
Office for National Statistics data showed UK unemployment fell by 24,000 in the latest quarter to 2.49 million.
The Scottish jobless rate is now 7.4%, which is below the average of 7.7% for the whole of the UK.
The number of people claiming Job Seeker's Allowance fell by 2,900 from July to 126,000 in August.
Scottish Secretary Michael Moore said: "A fall in the number claiming Jobseeker's Allowance for the 10th consecutive month, together with an increase in employment, is good news, although tempered by the rise in unemployment.
"Overall, 15,200 fewer people are claiming unemployment benefit compared to one year ago."
He added: "While we have seen encouraging signs for our economy, the economic conditions remain difficult and we cannot and will not be complacent."
Employment rate
The Scottish government said the figures showed that Scotland continued to have a higher employment rate and lower inactivity rate than the other nations in the UK.
Finance Secretary John Swinney said: "I welcome these figures, which show that employment in Scotland continues to increase.
"They also show a further welcome reduction in economic inactivity, showing that more Scots are actively seeking employment."
Scottish Labour's finance spokesman Iain Gray commented: "I'm sure the additional 10,000 unemployed Scots don't want to hear John Swinney talk about a budget for independence, they want a budget for jobs.
"It's wrong that the SNP trumpet employment figures as a success story for the Scottish economy and ignore thousands of Scots who have joined the unemployment lines .
"They are spinning the statistics to suit their story and it is fooling no-one."
'Clear signal'
Responding to the figures, Scottish Chambers of Commerce chief executive Liz Cameron said: "This is another clear signal that whilst many economic indicators may be improving, we are far from being out of the woods and there is no room for complacency, especially when it comes to creating and sustaining jobs in Scotland."
Scottish Trades Union Congress (STUC) general secretary Grahame Smith argued there was little in the latest statistics to support the growing optimism about Scotland's immediate economic prospects.
He added: "Unemployment is now higher than it was in autumn last year and the employment rate remains 4.5% below its pre-recession peak.
"The STUC has consistently argued that recent labour market data provided very little encouragement: unemployment is stagnating at a high level, employment growth is much too slow, underemployment is at a historically high level and the jobs that are being created are generally low paid and insecure."