Webhelp Group eyes UK acquisitions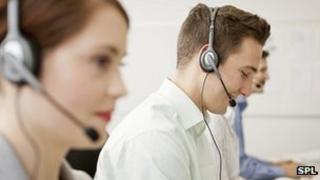 The parent company of a major Scottish call centre employer has announced plans to invest up to £84m in acquisitions, mainly in the UK.
French-owned Webhelp Group said the move was aimed at consolidating the fragmented call centre market.
Earlier this year, it bought Falkirk-based HEROtsc from India's Hero Group.
Webhelp TSC now employs about 3,000 people in Scotland, with call centres in Larbert, Greenock, Kilmarnock, Dunoon, Rothesay and Glasgow.
Webhelp Group said its goal was to become the number three in its sector in Europe by 2015 in terms of revenue.
The group's latest move follows a successful £230m refinancing of its funding facilities, led by its private equity backers Charterhouse Capital Partners.
Its UK division employs 6,000 people across 10 sites and works for brands such as Sky and Vodafone.
'Tremendous opportunity'
Webhelp Group co-chairman Frederic Jousset said: "Having developed an integrated customer experience offering for our clients, we see tremendous opportunity to build real international scale to support new and existing clients internationally, with a mixture of onshore and offshore locations.
"The group's refinancing gives us the capital structure and funding facilities to accelerate that strategy through a highly targeted acquisition programme."
Last month Webhelp TSC announced it would create 70 jobs in Glasgow under a new pre-employment training initiative.