New quality assurance award for food and drink sector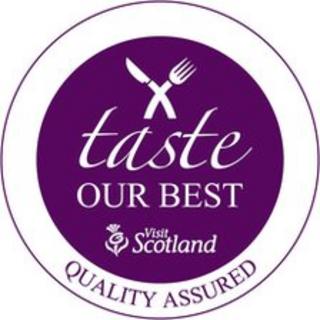 A new quality assurance scheme has been launched in a bid to boost sales for Scottish food and drinks businesses.
The Taste Our Best scheme is a £920,000 joint initiative between tourism body VisitScotland and the Scottish government.
It recognises hotels, restaurants, cafes, takeaways, attractions and B&Bs that promote Scottish produce.
VisitScotland said the move could boost sales for food and drink businesses by up to 20%.
It added that research had shown that visitors were willing to pay up to 15% more for food that was of Scottish or local origin.
Visitors currently spend about £800m a year on food and drink in Scotland.
Taste Our Best will replace the current EatScotland food and drink quality assurance scheme, which will be phased out
Taste Our Best will provide businesses with an assessment of their food provision and their menu by qualified assessors, with those meeting the necessary criteria gaining the award.
A pilot programme has been running and the main scheme will be rolled out to tourism businesses over the coming months.
'Wonderful story'
Rural Affairs Secretary Richard Lochhead said: "Scotland's food and drink is just one of a number of things that attract tourists to our country and we have a wonderful story to tell about its provenance and journey.
"We produce top quality products from our array of amazing raw materials and the industry can capitalise by using this as a unique selling point to visitors from far and wide."
Earlier this week, Scotland's food and drink industry raised its long-term sales targets after a record 12 months.
Targets were set by the industry in 2009 to reach £12.5bn by 2017.
But newly-released figures showed record turnover of more than £13bn in 2011.
Industry body Scotland Food and Drink has set a new goal of £16.5bn for 2017, which includes an exports target of £7.1bn.