Scottish independence: 'No referendum impact' on business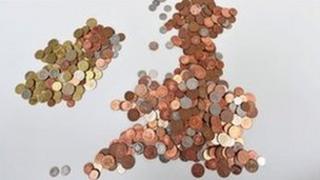 The independence referendum has had no impact on most companies' operations, according to a new poll.
A British Chambers of Commerce (BCC) survey found nine-tenths of companies were "unfazed" by the referendum, which is due to be held in a year's time.
Businesses across the UK were asked about orders and sales, employment intentions, or investment in plant and premises.
A total of 2,000 companies took part in the survey.
Some 14% of firms which reported no impact said they did not have enough information on the referendum.
A total of 17% said it was "too early to tell" whether the referendum would affect their business.
Of those reporting no impact, some 68% said the majority of their trade was from outside Scotland.
About one in 20 businesses reported that the referendum had had an effect already, while about one in 100 respondents reported positive impacts.
Those who flagged up referendum-related effects said they were more pronounced on companies' Scottish operations.
This appeared to be more pronounced on forward investment, but BCC advised that the numbers involved were small and remained "within the statistical margin for error".
The organisation called for additional research in the coming months to draw firmer conclusions.
BCC director general John Longworth said: "One year before Scotland goes to the polls, our business survey shows that the Scottish independence referendum has left most businesses unfazed.
"The debate has not yet had an appreciable impact on custom, employment or investment for the vast majority of UK companies.
"Only small numbers of businesses say that the referendum is having an effect, mainly on investment decisions in Scotland itself, which is hardly surprising.
"However, a year is a long time in both politics and economics."
He added: "We will continue to monitor the impact of the independence debate on business, as this could change significantly both in Scotland and the rest of the United Kingdom."
'Financial levers'
SNP Treasury spokesman Stewart Hosie MP said: "The anti-independence campaign's myths that the referendum is harming business have yet again been shown up as nonsense by businesses themselves - just like their scares over inward investment and roaming charges.
"There are over 340,000 businesses in Scotland. Our job is to support them with good infrastructure, a skilled workforce and sensible and stable business taxes to encourage investment and growth.
"The best way for us to do that is with a Yes vote next September, so that we have all the financial levers at our disposal to tailor decisions for Scotland's economy to create jobs and increase opportunities."
A Scotland Office spokesman said the real question was whether or not leaving the UK would have a negative impact on business.
He added: "Our view is that independence would put new burdens on business by creating a new border where none currently exists and multiplying the regulations with which firms operating across the UK would have to comply.
"In addition, the issue of independence is highlighting serious issues for business such as doubts over the currency and the disruption of trade across the UK.
"It may also be the case that businesses are looking at the debate and watching public opinion in Scotland closely, which continues to support remaining in the UK by a significant majority."