Royal Bank of Scotland facing £42m legal bill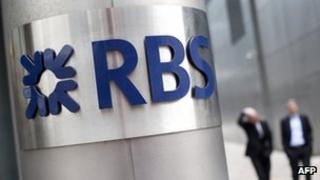 Royal Bank of Scotland is facing a legal bill of more than £40m for defending itself and its former bosses against court action by shareholders.
Thousands of investors claim the bank deliberately misled them into believing it was in good financial health just before it collapsed in 2008.
They are suing RBS and several former directors for up to £4bn in a class action.
The size of the legal bill emerged on the day of a preliminary court hearing.
The hearing at London's High Court before Mr Justice Hildyard was told that units of Legal & General Group, Prudential and Standard Life were considering joining the existing litigation or filing new claims.
RBS later confirmed it could face total legal fees of up to £42m.
If a full hearing of the class action goes ahead, former RBS chief executive Fred Goodwin will be among those likely to give evidence.
His legal expenses will be met by the state-owned bank.
RBS, which is 81% owned by the taxpayer, said it was normal practice for banks to indemnify directors against legal action arising from their role as board members.
Ex-chairman Sir Tom McKillop is also being sued, along with Johnny Cameron and Guy Whittaker, who were senior figures at the bank in 2008.
The court action relates to a £12bn rights issue by RBS in 2008 to shore up its balance sheet after its disastrous acquisition of Dutch bank ABN Amro.