Angus 'cheapest location' for car repairs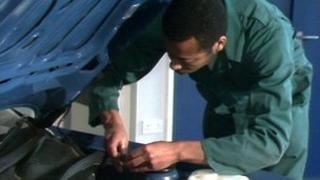 Angus in Scotland is the cheapest location to get your car fixed, according to a UK-wide survey.
The average amount garages in the area charge for an hour's labour has fallen this year more than 21% to just over £62.
The most expensive place for repairs was London, where the average charge was more than £89.
The figures were given in Warranty Direct's annual labour rates survey, which covered 67 regions across the UK.
It found that the cost of getting a car fixed in the UK fell in the past 12 months.
The average hourly labour rate of both franchised and non-franchised workshops was £74.70, down more than 9.8% on 2012.
Warranty Direct cited increased competition from fast-fit firms, aggressive manufacturer loyalty programmes and motorists willing to shop around for the best deals as reasons for the price fall.
Cheapest locations
Five areas of Scotland featured in the top 10 cheapest locations for repairs.
They included East Lothian (£64.23 per hour), Aberdeenshire (£65.61), Renfrewshire (£65.64) and Fife (£66.49).
Although prices fell by an average 10% across the country, some areas experienced bigger rises and falls.
West Lothian in Scotland saw labour rates increase by more than 20% over the period, while in Cornwall prices fell almost 19%.
Warranty Direct managing director Duncan McClure Fisher said: "From this year's results, it appears, for the first time, that consumers are starting to win the price war as labour rates finally start to fall across the UK.
"Service clubs, servicing plans, fixed priced servicing and scheduled servicing bundles are being increasingly used by manufacturers and dealers to attract and retain customers.
"At the same time, consumers are getting smarter and learning how to shop around for better deals."