Patchy recovery hits Scotmid profits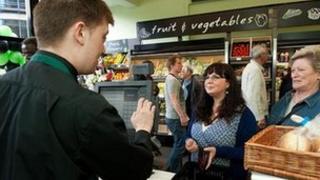 The retail chain Scotmid has said there is little evidence of an economic recovery in Scotland as profits dip.
The co-operative group reported operating profit for the 26 weeks to July 2013 of £2m - down by £0.1m compared with 2012.
Scotmid said the retail environment had been "challenging" but its property and funeral divisions had shown good growth.
Sales at its Semichem chain were boosted by good summer weather.
John Brodie, Chief Executive of Scotmid Co-operative, said: "The Society, despite a challenging retail trading environment linked to an ongoing squeeze on household incomes, continues to be in a strong position with assets of around £95m."
He added: "Although there have been some reports of economic recovery, this appears to be specific to certain locations and sectors and is not evident in the retail and consumer sectors in Scotland, Northern Ireland and Northern England.
"There will normally be a significant time lag before any recovery filters down to consumers, so the outlook for the second half of 2013 remains challenging.
"We continue to sound a note of caution as the erosion of real terms disposable income is the everyday reality for our customers."