Energy firm SSE signs up as living wage employer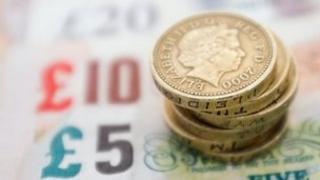 Energy giant SSE has become one of biggest UK companies to sign up as a living wage employer.
Nearly 20,000 staff across the UK are guaranteed to receive the living wage rate of at least £7.45 outside London and £8.55 in the capital.
The rate is based on a calculation of what an individual needs to earn to cover the basic costs of living.
It is an informal benchmark, not a legally enforceable minimum level of pay like the national minimum wage.
It is promoted by the Living Wage Foundation, which accredits employers that pay the living wage.
Perth-based SSE said it was the biggest British company by market capitalisation to introduce the benchmark.
The move directly affects about 150 employees in Scotland, England and Northern Ireland, whose wages will increase by an average of about £1,000 following SSE's decision. The increase is being backdated to April.
The energy firm said it would also ensure that its supply chain companies paid their employees the living wage from April 2014.
'Basic fairness'
Chief Executive Alistair Phillips-Davies said: "SSE is proud to become one of the first big companies to pay its employees the living wage.
"With a workforce of over 20,000, this demonstrates that we value the people who work for SSE very highly and we're willing to pay them at a level which shows them we mean it.
"It also shows that SSE is a company which is serious about doing the right thing.
"It is a matter of basic fairness that people should get a wage which is enough to cover their living expenses and SSE believes in being fair."
SSE is the second biggest energy supplier in the UK with 9.5 million customer accounts.
The Living Wage Foundation described SSE's move as "a real milestone in the history of the living wage movement".
Director Rhys Moore said: "We now have the first energy supplier, the first UK utility and the first company in the top third of the FTSE 100 to become an accredited living wage employer.
"The history of the living wage campaign teaches us that others will follow this lead.
"There are now close to 400 accredited living wage employers across the UK, up from 70 this time last year.
"SSE's accreditation is an example to other major employers to do the right thing and take a lead on the living wage."
The idea of the living wage has received widespread political support, but limited endorsement by employers to date.
Insurance giant Aviva and accountancy firm Deloitte are among the big firms which use it as a benchmark.