Dairy firm Robert Wiseman Dairies hit by 'cost challenges'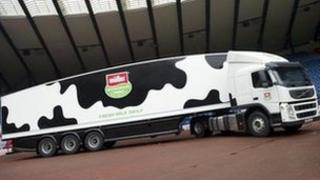 Robert Wiseman Dairies recorded a large pre-tax loss last year after its margins were hit by "numerous challenges on costs".
The company, which was bought by Muller Dairy (UK) in a deal worth nearly £280m early last year, reported a loss of more than £7.1m in the 11 months to 31 December.
In the previous 10-month period it made a pre-tax profit of more than £7.5m.
Revenues rose from almost £780m to just over £880m in the latest period.
In accounts filed with Companies House this week, the East Kilbride-based firm said: "Despite an increase in revenue in the prior period, the 11-month period to 31 December 2012 has presented numerous challenges on costs which have significantly impacted our margins for the current period.
"The group continues to work to improve margins going forward and has recently made the decision to wind down two of our distribution depots at Keith and Whitburn, as part of a review of operational and administrative efficiencies throughout the business, with closure of both expected before the end of the year.
"The group has continued to develop the relationship with our main customers and maintained supply volumes with these customers following the outcome of recent tenders."
Robert Wiseman Dairies was delisted in early 2012 following its takeover by German-owned dairy group, Muller.
Wiseman is now a wholly-owned subsidiary of Muller Dairy (UK).