Entrepreneurs: One year down the track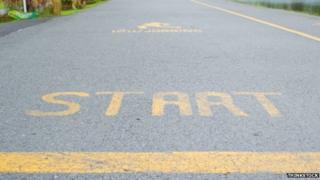 Celebrating a birthday can be a milestone in anyone's life but if you are a new business, marking a certain point can be particularly important.
For the last year, BBC Scotland has been following a group of entrepreneurs who started out in the Entrepreneurial Spark (ESpark) business start-up accelerator programme.
Its website says it is where "start-up and early stage businesses are hot-housed, nurtured and enabled".
There are now three sites across Scotland, known as hatcheries.
The businesses we first talked to have now left and we have been asking them how they are doing out in the world.
Victoria Bisland and Anne Widdop
"We feel like we're on the brink of a breakthrough," says Anne Widdop, founding director of Fuze ceremonies. It provides humanist ceremonies for different stages of life.
"We could have had more sales but we're still building and with so little seed capital to set up the business, I think we've done pretty well."
It has been a busy period for the company. In the first year, they conducted 120 ceremonies and currently have 150 bookings for the next couple of years.
They have run three wedding training courses, taken on a number of celebrants, as well as an intern who will be looking after the company's social media.
"We pretty much hit our numbers," continues Ms Widdop, "and I'm really pleased with what we've achieved."
Away from pure finances though, there have been real highs and lows.
"We're both exhausted but we're still very positive," says operations and training director Victoria Bisland.
"We're still very excited about our business and where it's going to go in the next couple of years."
Both women say they are working harder than they ever have, with one of the challenges being that when you start out in a new business, you have to do everything yourself.
They are about to launch all-inclusive wedding packages and would like to move into the area of ancestral tourism with "homecoming ceremonies".
Funding and investment has continued to be an issue but they have had some "small successes" with grants, training and development money.
Paul Bain and Claire McArthur
Contemporary country duo Raintown have been out of ESpark for about three months now.
The original impetus for entering the programme was to support what they hope will be a long career through "good solid business foundations".
They are now back in their home office, where they are writing and recording their new album.
Both think ESpark was a good experience.
"It made us think differently," says Paul Bain, who is one half of the group. "We wanted to be much more business aware."
Last time we spoke, the duo was very interested in the idea of crowdfunding, where individuals invest in return for some kind of reward.
"We did a little mini version of it about a year ago to fund our current album," says Claire McArthur, the other part of the group.
"Our fans got behind us and they pre-ordered the album and they got their album with their name on the cover." Both would like to make more use of crowdfunding in the future.
Although they are now back working in a home office, they have kept treating their artistic careers very much as a business.
"We want to reach the very top," explains Mr Bain.
"We want to do it in a very holistic way that allows Raintown in time to employ people, actually create a business that other people can be involved in, that they can get paid from. The plan is to go the very top."
Marie Rogers
"It's been really good," says Marie Rogers, referring to the journey her company Total Sales Solutions has been on.
It offers a telemarketing service and help for companies to train and increase sales. Next month she plans to launch a sales school.
At the end of June, after about a year in ESpark, she flew the coop, describing the whole experience as "phenomenal".
She says it was particularly helpful in helping her focus and build a network of contacts.
She still keeps in touch with other current and ex-participants in the programme and says that the idea of building a "community of like-minded individuals" was important.
"The lows are where you start off and it's just you and you have to do everything and there isn't a choice through financial commitments," she continues, pointing to things like book-keeping and setting up systems.
She is positive about the future, saying the business has always funded itself "which I think is remarkable in this day and age".
In 10 years from now, she would like a network of sales schools in the UK and Ireland.
Steve Broadfoot
Ear protection developer Steve Broadfoot feels he is making progress. His "Lug Plugs," are now being sold online as well as through a number of resellers, but so far it is still small scale.
"I still don't feel I've officially started trading," he says, "albeit I've got the first customers.
"It is a good position to be in when people see what you're doing and want to buy it from you, so effectively what we've done is proved that we have demand. We now have a business model that we want to scale."
The ear protectors are now being assembled in a factory in Paisley. Mr Broadfoot says he believes the way to get a new business up and running has changed.
"Trying to get angel investment and venture capitalist investment is just crazy," he continues. "It's just not there.
"So you need to get customers and income first and then once you've got that, future investment will come."
He has had a lot of support from family and friends.
It is now coming up for two years since he started working on the project.
"I relate it to a band," he says. "Everybody thinks bands break overnight - they don't. There's generally a lot of work done in the background."
Jamie McHale
When BBC Scotland last spoke to Jamie McHale he was working on his daily deals site, but that has changed.
In fact Mr McHale is not even in Scotland, but is in the United States on a Saltire Fellowship. It is designed to hone the skills of the next generation of Scottish entrepreneurs.
"I put the business on hold," he says.
"I haven't ditched the idea entirely because I think there're still good parts of it but the reason I put it on hold is that we weren't getting the traction that we needed.
"So I'm hoping to sharpen up my skills, understand a little bit deeper what went wrong and what we can do right the next time we tackle that problem but it's still very much an area that I'm interested in.
He says ESpark was good for helping him focus and getting a network of contacts.
He adds: "No matter what industry you're in, someone from a different industry will lend you a different insight or perspective."
ESpark chief executive Jim Duffy
The rules of the hatchery have changed.
Whereas a start-up business used to be able to spend up to a year there, the time has now been cut to five months. It all begins with a five-day boot camp.
"You can spot the real entrepreneurs," says Jim Duffy, ESpark chief executive.
He says the organisation will keep assessing what more it can do to encourage entrepreneurs. He talks of a ripple effect.
"Everyone's raised their game in Scotland for start-ups and early stage ventures.
"That's a good thing because it feeds up into other organisations.
"It becomes more positive, more joined up and it becomes easier to start a business, that's got to be a good thing," he adds.
You can hear more about how these entrepreneurs have fared in the past year by listening to BBC Radio Scotland's Business Scotland programme at 6:05 on Saturday and again at 10:05 on Sunday.
The programme will also be available by free download.