Walkers Shortbread sees profits and turnover rise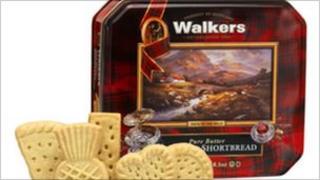 Walkers Shortbread saw profits and turnover rise strongly last year, defying challenging economic conditions in domestic and export markets.
The Moray-based producer of shortbread, biscuits, cakes and oatcakes reported a 3.8% rise in turnover to £123.7m.
Pre-tax profits also climbed from £8.9m in 2011 to £14.6m.
However, Walkers warned it faced challenges this year in limiting the effects of food and raw material inflation.
It said the nature and scale of the cost pressures it continued to face meant it was "probable" that its margins would erode over the short to medium term.
'Continued progress'
In accounts filed with Companies House, Aberlour-based Walkers stated: "We are pleased to report continued progress in growing revenues across our key trading channels, notwithstanding the weak economic performance of the UK and much of western Europe in 2012.
"As a result turnover grew by 3.8% to £123.7m, with exports accounting for about 41% in both 2011 and 2012.
"Of particular relevance to our long-term profitability is the ongoing development of the Walkers brand in home and export markets, which has been significant in helping to raise our total operating margin from 7.2% to 11.8%."
The company added: "Limiting the effects of food and raw material inflation, whilst maintaining the quality of the ingredients we source, remains at the top of our agenda.
"This continues to present the business with very real challenges and although 2012 saw a temporary easing of pressures in the dairy sector, the price of other commodities has continued to rise and we expect to see further increases more generally in 2013."
Walkers said it was well placed to meet the challenges ahead in part because of the "absolute quality" of its products, coupled with a long-term programme of capital investment.