Air cargo rises by 50% at Glasgow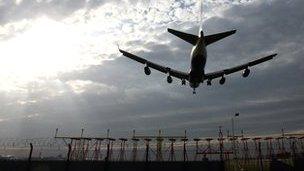 The amount of cargo passing through Glasgow airport rose by 50% last month while passengers numbers at all of Scotland's major airports also increased.
Edinburgh Airport recorded the steepest rise of 9% compared with 2012 and said it was the "busiest September ever".
Almost a million passengers made their way through the capital's airport.
There was a 3.8% increase in the passengers travelling through Glasgow airport and a 6.3% rise for Aberdeen.
Gordon Dewar, chief executive of Edinburgh Airport, said: "Since May we've experienced more passengers travelling through Edinburgh Airport than ever before, this has been our most successful summer on record, with September being no exception.
"We've had a massive growth this summer, having also just reported our strongest quarter on record."
Managing director of Glasgow Airport, Amanda McMillan, said: "It is very encouraging to be able to follow what was our best summer in five years with further passenger growth in September.
"There were a number of events within Glasgow during September, including the Liberal Democrats autumn conference, which contributed to a strong demand for domestic services and with the SSE Hydro now open, the city can look forward to attracting even more large-scale events."
Meanwhile, during the same month London Heathrow had a 3.4% rise in passengers and warned it was full.
A commission is currently investigating airport capacity and Heathrow is campaigning for permission to build an additional runway.
Heathrow chief executive Colin Matthews said: "Without a larger hub airport, the UK can expect to fall behind in the global race for trade, jobs and economic growth."
Related Internet Links
The BBC is not responsible for the content of external sites.