Grangemouth dispute: Unite members announce strike action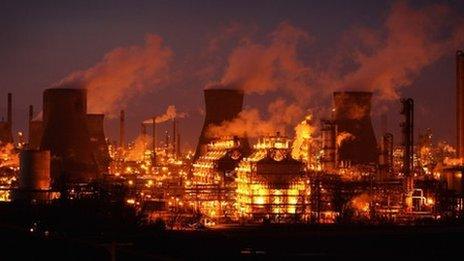 Workers at the Grangemouth oil refinery and petrochemical site in central Scotland have announced plans for a strike in a row over a union convenor.
Unite said its members would walk out for 48 hours from 07:00 on Sunday 20 October over the treatment of Stephen Deans.
Workers started an overtime ban and work to rule on Monday.
Unite accused Ineos, which operates the site, of refusing to take the dispute to the conciliation service Acas.
Unite's Scottish secretary Pat Rafferty said: "Unite has made every effort to pull Ineos back from the brink but at every opportunity this company has kicked our proposals for peace into touch.
"We have pleaded with government ministers in Westminster and Holyrood and the joint owners of the Grangemouth refinery Petrochina to help rein in this reckless company before it's too late.
"A damaging strike may shut down the Grangemouth site, with serious ramifications for fuel production and supply throughout Scotland and the north of England."
An Ineos spokesman said the firm was trying to minimise the impact of any strike action.
He added: "We are doing all we possibly can to maintain supplies at current levels.
"There are relatively high stocks of fuel, and we are looking to import additional fuels."
Earlier on Friday, Ineos had condemned the union for what it said were actions discouraging customers from doing business with the plant.
The company recently launched a survival plan for Grangemouth, warning that the site will close by 2017 without investment and reduced costs.
Unite said it had received an overwhelming mandate for strike action from the workforce, with 81.4% voting for walkouts and 90% for other forms of industrial action, on an 86% turnout.
The dispute centres on Mr Deans, who was involved in the row over the selection of a Labour candidate in Falkirk.
Mr Deans, who is chairman of both Labour's local constituency party and Unite in Scotland, was suspended by Ineos, then reinstated.
Ineos officials have said an investigation into the Unite union official was due to be completed by 25 October.
A strike at Grangemouth in 2008 is estimated to have cost the UK economy hundreds of millions of pounds.
A spokeswoman for the Scottish government said it was "disappointed" that strike action was now planned.
She added: "This news reinforces our fundamental view that this dispute can only be properly and fully resolved by negotiation between the company and the trade unions.
"We will now redouble our efforts to encourage negotiation to avert a strike, whilst taking forward contingency planning activity."
UK Energy Secretary Edward Davey said: "It's very disappointing that Unite has decided to strike.
"I urge them to call it off and for both parties involved to enter into talks about the long term future of the Grangemouth plant and reach a fair, sustainable resolution.
"We have been working closely with the fuel industry and Scottish government to put robust alternative supply routes in place in the case of a strike, which means that motorists can carry on as normal and other impacts will be kept to a minimum."
Related Internet Links
The BBC is not responsible for the content of external sites.