Sales firm Aquira to create 220 further Glasgow jobs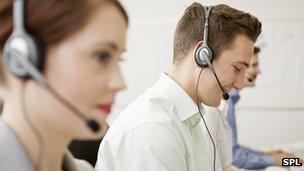 Expansion plans for sales firm Aquira will create 220 jobs in Glasgow.
In June, the direct marketing firm announced 200 new positions at a new sales lab in the city.
At the official opening on Friday, the Shrewsbury-based company gave details of the further expansion.
Aquira provides firms, including Vodafone and Scottish Power, with a marketing and sales force, to win and retain customers by phone, internet, email and social media.
First Minister Alex Salmond opened the firm's new sales lab and welcomed news of the further jobs.
Mark Walton, Aquira chief executive, said: "Our new investment in Glasgow is a strong reflection on the success of our current operation. It is also a ringing endorsement of Scotland's reputation for business and the skills of the local workforce.
"We have ambitious plans for growth and the expanded team in Glasgow will have a significant part to play in realising them. Our growth plans will also open up exciting employment opportunities for all ages, including young people.
"We believe in the value of recruiting young people and growing their talent for the benefit of the business. That is why we are pleased to launch this new recruitment drive and look forward to helping talented young people into employment."
Related Internet Links
The BBC is not responsible for the content of external sites.